Wesfarmers chairman warns of high unemployment if tax reforms stall
Wesfarmers chairman Michael Chaney has urged the government and opposition to put aside their differences and pass significant industrial relations and tax reforms or Australia faces a future of high unemployment and deficits.
Australia was facing a more uncertain time than at any time in the company's history, the prominent businessman and former Business Council of Australia president wrote in a message to shareholders in Wesfarmers' annual report published on Wednesday. Wesfarmers owns and operates major retail chains such as Bunnings, Officeworks, Target and Kmart.
"Within Australasia, where our principal businesses operate, many borders are closed, varying trading restrictions have been imposed, the economy is in recession and unemployment has risen substantially," he said.
"It is clear that in the absence of an effective vaccine for the coronavirus, random infection outbreaks will continue to occur and governments will respond by imposing restrictions of some sort."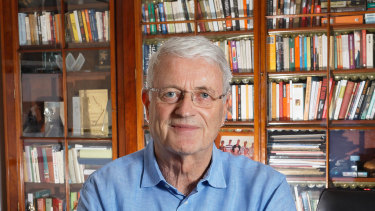 Mr Chaney pointed to high unemployment as the "greatest concern" stemming from the coronavirus crisis, and warned that while the JobKeeper and JobSeeker programs had been "vital", it was imperative for the government to implement long-term policy reform to avoid a lingering weak job market.
"In the longer term, we have to make sure jobs are created by developing a more productive, competitive economy," he said.
"Governments and opposition parties have to put politics aside and work together to remove the impediments to higher productivity – impediments like our overly complex industrial relations system, our inefficient taxation system and burdensome regulations."
"In the absence of that, we will be faced with a future of high unemployment, high government deficits and, in due course, the very damaging effect of higher interest rates."
Such government reforms would be a boon for Wesfarmers, allowing the company to make more investments, employ more people and contribute more to the country's economy, Mr Chaney claimed.
Mr Chaney pointed to the complexities in the industrial relations system as one of the contributing factors to Wesfarmers' four separate underpayment scandals over the last year.
Wesfarmers has been one of the biggest beneficiaries of COVID-19. Almost all its businesses have seen higher sales through the pandemic as customers shopped more from home.
The company's profit rose 8 per cent for the year to $2.1 billion, and so too did its executives' remuneration packages. Managing director Rob Scott will take home $7.7 million in pay for the year, a $1 million rise on last year.
Around $5.2 million of Mr Scott's pay packet consists of share-based payments for the year through Wesfarmers' equity performance plan program. Mr Chaney will be paid just under $800,000 for the year for his role as company chairman.
Wesfarmers has also set new climate action targets for its businesses, with the company announcing on Wednesday that Bunnings, Officeworks, Kmart and Target will have net zero scope one and two emissions by 2030. Scope one and two emissions cover emissions produced as a direct or indirect result of the company's activity.
Wesfarmers' chemical, energy, and fertilisers division will look to also achieve net zero scope one and two emissions, albeit by 2050. The entire business emitted 1601 kilotonnes of CO2 in 2020, a slight increase on last year.
"Today, we have announced clearer, more ambitious commitments, including net zero targets or aspirations for all our businesses," Mr Scott said.
"It is important to highlight that action to reduce emissions makes good commercial sense. We see the opportunities to operate our businesses more sustainably as being completely aligned with our objective of delivering a satisfactory return to shareholders."
Source: Thanks smh.com