NBN fibre upgrade a defence against looming 5G assault
The Morrison government's $3.5 billion upgrade path for the National Broadband Network has less to do with gold plating connections for select homes and businesses than sending a clear message to telcos, most notably Telstra, to rethink their 5G ambitions.
It's a defensive move that gives Telstra, Optus and TPG food for thought as they gear up to bid for lucrative 5G spectrum coming up for auction next year. It's also an acknowledgement from NBN Co that it needs to stay a step ahead of the competitive threat posed by 5G services.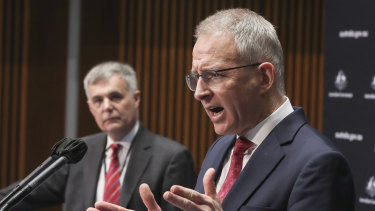 The spectrum, up for grabs next year, will open the door for the telcos to bypass the high wholesale prices charged by NBN Co and instead offer 5G-powered fixed-wireless broadband services, delivered via signals beamed from mobile towers to equipment attached to homes and business.
While NBN Co was always going to lose some homes to fixed-wireless services, which deliver a better return to the telcos, the magnitude of the threat posed by 5G has increased considerably in recent months. Reselling NBN fixed-line plans remains an unhappy endeavour for the telcos as the high wholesale prices leave little on the table for the resellers.
Telstra, which until recently was quiet about its 5G fixed-wireless plans, has become much more vocal about the technology and is almost certainly hoping to use it to bypass the pricing pressure posed by the NBN.
However, rolling out 5G is expensive business. The telcos collectively need to spend billions of dollars on spectrum, towers and equipment to deliver 5G services at scale, and NBN Co's decision to upgrade portions of the network leaves them facing two options.
They can either cool their heels on using 5G technology to compete directly against the NBN in certain areas, because consumers will have a real choice on the service that best suits their needs. Conversely, they can accelerate their efforts to get 5G services to homes as quickly as possible, well before the NBN upgrade wagon rolls into neighbourhoods.
The one factor in favour of the telcos is that, while the upgrade path spelled out by NBN Co is laudable in theory, executing it is likely to be quite complex.
There's no guidance from NBN Co on which homes will get the upgrades, the price these homes will have to pay for the faster service or, given the piecemeal nature of the on-demand fibre upgrade, how the civil engineering challenge will be handled. All of this gives telcos a window of opportunity to accelerate their respective 5G plans.
While there's little doubt that demand for fast and reliable broadband will continue to rise, just how much consumers are willing to pay for it remains to be seen. The fibre upgrades will be delivered free of charge to homes and businesses but they will have to pay premium prices, which in turn will help NBN Co shore up its revenue forecasts and dress it up as a healthy target for any potential buyer.
However, the telcos will pitch their 5G offers at a much more competitive price point. Optus, for example, is planning to launch a 5G service at $90 per month, which promises customers with access to uncapped speeds at an average download speed of 214Mbps (between 7pm-11pm). There's also a $75 per month plan on offer that can deliver maximum speeds of 100Mbps.
It's a taste of the sort of offers Telstra and TPG are likely to launch in the market next year. And they will come with a heap of bells and whistles as well, most importantly mobile bundling options.
NBN Co's upgrade program is earmarked to get started around the middle to end of next year and rather than force feed fibre to every home, the approach is likely to be considered and most likely target the areas where it feels it can best defuse the 5G pitch from the telcos.
Business Briefing
Start the day with major stories, exclusive coverage and expert opinion from our leading business journalists delivered to your inbox. Sign up for the Herald's here and The Age's here.
Source: Thanks smh.com