Power giant EnergyAustralia urges battery focus in federal plan
One of the nation's largest power suppliers, EnergyAustralia, says subsidising battery installations would be the best way for the federal government to invest in the future of the power market while lifting the economy out of COVID-19.
As the Morrison government looks to gas to drive the post-lockdown recovery, EnergyAustralia's head of customer markets Mark Collette has called for a greater national focus on accelerating the transition to renewables by matching the recent boom in rooftop solar panels with household and commercial batteries, capable of storing surplus energy created during the day.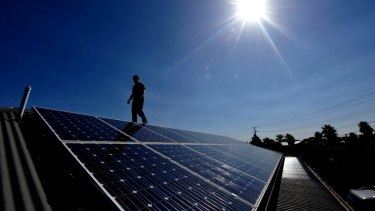 "I think the biggest problem to solve in energy … is how we deal with the 'feast or famine' – that is, having too much renewables at one point in time and not enough at another," Mr Collette told The Age and The Sydney Morning Herald.
"That's the problem we should focus our time and attention on as a country."
Between six and nine gigawatts of new "dispatchable" power resources such as gas, batteries and pumped hydro will be required to manage the energy transition in the next 20 years to fill the gap during overcast and windless periods when conditions for renewables are unfavourable, according to the energy market operator.
However, Prime Minister Scott Morrison's heavy focus so far on gas as the solution has reignited public debate about the best path for Australia's transition, and has fuelled concerns from environmentalists and some business leaders who believe stimulus funding would be better spent on expanding clean energy rather than carbon-intensive fossil fuels.
Former prime minister Malcolm Turnbull this week said a "renewable-led economic stimulus" would be much more effective than concentrating on gas.
EnergyAustralia, which runs coal, gas and renewable energy assets supplying 2.4 million customer accounts, said incentive schemes in the past have helped drive a boom in solar panels' uptake as increasingly climate-conscious customers seek to reduce their carbon footprint. Mr Collette said 250,000 EnergyAustralia customers had signed up to the company's free carbon-neutral energy plans, offsetting 1.6 million tonnes of carbon dioxide and demonstrating that customers were eager to make a difference where possible. However, cost barriers have so far contributed a slower uptake of household batteries compared to solar, he said.
"Solar energy is now quite economic without government subsidy, it's probably a train that moves without any support," he said. "I think the case for action around batteries and different support mechanisms that might help on storage could be stronger because it helps some of the emerging challenges across the grid."
Energy and Emissions Reduction Minister Angus Taylor this week named energy storage as one of the government's five technology priorities, including a "stretch goal" of cutting energy storage costs. The other priorities include clean hydrogen, low-emissions steel and aluminium production, carbon capture and storage, and soil carbon sequestration.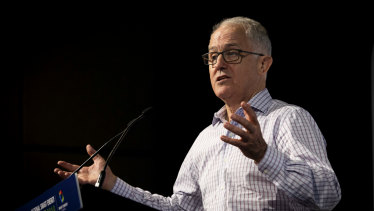 Power industry leaders agree that gas will have a role to play in the future as the "transition fuel" bridging the gap between coal and renewable energy. But they also predict that batteries will be pivotal, turning homes and businesses into "virtual" power plants that can soak up surplus power from solar and wind farms and dispense it at later times when needed.
The Australian Energy Council, representing the nation's largest energy companies, has publicly questioned the rationale behind the government's push for 1000 megawatts of new gas capacity in New South Wales to compensate for the closure of Liddell coal-fired power station in 2023.
AGL and EnergyAustralia, the nation's two largest greenhouse gas emitters, are facing pressure from both sides of the energy debate: from environmentalists demanding early closures of coal-fired power stations and quicker transitions to renewables to help arrest global warming, and from the federal government which insists coal and gas are the key ensuring reliable and affordable energy.
Both power companies have committed to become net-zero emitters by 2050, setting goals to lift investment in renewables and the number of customers on carbon-neutral energy plans under which they offset a customer's emissions footprint by purchasing credits in schemes such as tree-planting programs. Last week EnergyAustralia expanded its carbon-offsetting program to residential gas customers. The Morrison government has not committed to net zero emissions by 2050, saying the target was "absolutely achievable" but would be met in the second half of the century.
Business Briefing
Start the day with major stories, exclusive coverage and expert opinion from our leading business journalists delivered to your inbox. Sign up for the Herald's here and The Age's here.
Source: Thanks smh.com