'Blind Freddie can see it': Myer headed for administration says Solomon Lew
Billionaire rag trader Solomon Lew has blasted efforts by Myer management to restructure its board and said the company is headed for administration in a further escalation of tensions between the struggling department store and its shareholders.
Mr Lew told The Age and The Sydney Morning Herald that this week's move to cut two directors and reduce board fees were a "drop in the ocean" in the context of Myer's $172 million loss earlier this month.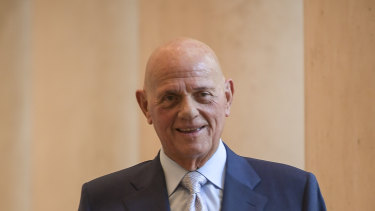 Myer chairman Garry Hounsell made the changes following pressure from Myer's second-largest shareholder Geoff Wilson, but Mr Lew said his issues with the board were not to do with fees but rather with their contribution, "or lack thereof", to running the business.
"The ship is sinking. What does it matter if you pay the captain a bit less on the way to the bottom?" he said.
"My position hasn't changed. The entire Myer board and its chief executive officer should resign immediately."
This latest spray from the Premier Investments chairman follows his attack of Myer's management on the release of the company's full-year results earlier this month, when it reported a 15 per cent drop in revenue and its second-largest loss.
Mr Lew also said he believed he was sold a dud when he invested $101 million in Myer in 2017, which gave the businessman an 11 per cent stake in the retailer that is today worth just $20 million.
"When we invested nearly three years ago, and I think we invested on information that wasn't correct," Mr Lew said. "I don't think the Myer board was forthcoming [about] their poor position."
At the time of Mr Lew's investment, Myer had just reported half-year profit growth of 5.3 per cent. However, a year later, the business plunged to a massive statutory loss of $476 million after a half-a-billion dollar impairment of the Myer brand name.
The banks have now got control of Myer, so Blind Freddie can see what's going to happen.

Premier Investment chairman Solomon Lew
Mr Lew's investment also preceded the appointment of Mr Hounsell, who the billionaire has been a fierce opponent of.
"When Garry 'Green Shoots' Hounsell arrived, he said everything was fine and three months later he was executive chairman at a $1 million executive chairman fee," he said.
Despite his renewed attack on the Myer board, Mr Lew refused to say whether he was interested in purchasing the retailer and buying out his fellow shareholders. However, he implied between him and Mr Wilson, Premier would be a more logical owner.
"Geoff [Wilson] is a very popular fund manager. Premier is a professional retailer. The results speak for themselves," he said.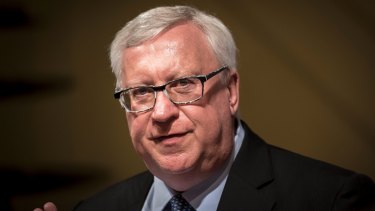 The veteran retailer also would not comment on whether he planned to call an extraordinary general meeting to force change at Myer, and said he believed administration may be the most likely outcome for the beleaguered merchant.
"The banks have now got control of Myer, so Blind Freddie can see what's going to happen," he said.
If Myer were to enter administration it could potentially provide Mr Lew with an inexpensive way of acquiring the business, while also shedding its numerous onerous lease agreements.
His comments come as Mr Lew's own retailer, Premier Investments, reported a stellar set of full-year results, with net profit after tax bouncing 30 per cent for the year to $137.8 million despite the COVID-19 pandemic.
Premier's revenue declined just 4.3 per cent for the year to $1.22 billion, despite the company's stores being closed for nearly two months during the April-May lockdowns, and total sales declining nearly 20 per cent for the second half of the year.
However, the retailer – which owns brands such as Peter Alexander, Smiggle and Jay Jays – warned it was prepared to close as many as 350 stores across Australia and New Zealand if landlords were unwilling to renegotiate rents for a post-COVID retail environment.
The retailer incurred an $8.7 million "channel optimisation" expense related to potentially closing 350 of its 1040 stores, however chief executive Mark McInnes said he hoped landlords would come to the table.
"I hope that the landlords are all sensible enough to understand that without Premier Investments' brands in their centres, their centres are worth less," he said.
"Any landlord that makes that decision is making a decision to destroy value for their shareholders."
The company did not pay any rent through April when its stores were closed during the first coronavirus lockdown, and paid a total of just $59.2 million in rent across the second half of the year while negotiations with landlords were ongoing.
Premier's threat to close almost one-third of its retail network is backed by rapidly growing and highly profitable online channel, which now accounts for nearly 20 per cent of total sales after growing 50 per cent in 2020.
Premier received a total of $68.7 million in wage subsidies across the seven countries in which it operates. A total of $35.5 million was passed through to employees who were unable to work, leaving the remaining $33.2 million as a direct fillip to the business.
The company noted that Australia's JobKeeper wage subsidy scheme meant many casual and part-time workers earned more than they usually would have. It also demonstrated its eligibility for the scheme, noting that between March 11 and May 15, in-store sales declined 78.4 per cent.
Premier will pay shareholders a final dividend of 36¢, a slight decline on last year, bringing the full-year payout to investors to a total of 70¢ per share. The company stressed that its JobKeeper receipts did not factor into its dividend payment, which remained at the same level as last year despite the company's 30 per cent rise in profit.
Premier shares fell 0.55 per cent on Friday to $19.02.
Business Briefing
Start the day with major stories, exclusive coverage and expert opinion from our leading business journalists delivered to your inbox. Sign up for the Herald's here and The Age's here.
Source: Thanks smh.com