Investor buzz around cannabis stocks with new treatments
Australia's fledgling medicinal cannabis sector has been blazing ahead with research projects in the face of the COVID-19 pandemic and well-known investors are looking for winners.
A cohort of ASX-listed small cap cannabis stocks were buoyed earlier this month on news that the nation's Therapeutic Goods Administration (TGA) looks poised to reclassify certain cannabidiol (CBD) products from next year so they can be bought over the counter without a prescription.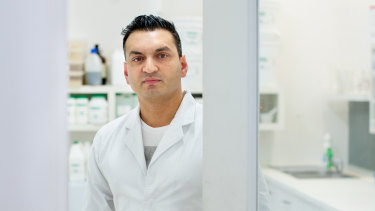 This change would only apply to certain products and many treatments currently in development by Australian companies won't fall into this category — but the industry welcomed the regulator's draft ruling because it will open up the sector.
The nation's cannabis businesses have increasingly been refining their focus over the past year as players look to differentiate themselves amidst a sea of competition, and well known investors are considering strategy and IP protection closely.
Last week ASX-listed Zelira Therapeutics, formerly Zelda Therapeutics, scored a new substantial shareholder when billionaire investor Alex Waislitz's Thorney Investment Group upped its stake from 2 per cent to 5.2 per cent.
Earlier this month Zelira confirmed its cannabinoid insomnia medicine Zenivol had been made available in Australia under the nation's special access scheme for cannabis products.
Thorney bumped its stake after a private placement of 37 million shares at 5.4c each.
"The strategic focus on intellectual property protection, together with its capital light business model we believe positions the company strongly as it commences revenue generation," Mr Waislitz said.
Meanwhile, former Ellerston Capital chief executive Glenn Poswell has seen opportunity in fellow pot play Incannex, which is aiming for FDA approvals for its cannabis based products.
Incannex is progressing trials for its major research programs and is hopeful of soon being able to show one of its flagship products is effective in protecting the brain against secondary injuries in the days and weeks after a traumatic brain injury or concussion.
The ASX-listed company launched an animal study for this concussion research earlier this year and is hoping to launch in-person trials when COVID-19 restrictions ease.
Mr Poswell has an investment in Incannex through his personal investment vehicle and said the company's plan for regulatory approvals was unique.
"There is no other company doing what they are doing…I like the way they have gone about everything – it has been diligent and incredibly protected," he said.
Aside from concussion treatment, it is looking at applying its cannabinoid products to treat acute respiratory distress and sleep apnoea. Last week the company got approval to launch a sleep trial in partnership with Melbourne's Alfred hospital.
"They're all [products] for specific indications, which is quite unusual in the cannabis world. They're all unmet needs, where there is zero pharmacotherapy for them," said Incannex chief medical officer Dr Sud Agarwal.
Dr Agarwal said the shift to reclassify CBD products to over-the-counter would have implications for how Australians — and their doctors — think about the sector.
"It's a major move…and it's one showing cannabis products are safe. It will socially normalise cannabis prescribing.
"It will be the first time that the generally healthy and well public will start accessing CBD for minor complaints."
Source: Thanks smh.com