'The nail in the coffin': Eased road map no relief for businesses
Business owners and industry groups say Victoria's new road map out of COVID-19 lockdown is still too slow and that the moving infection targets for lifting restrictions did not provide shops, restaurants and cafes the certainty they need to plan to reopen.
Under Victoria's revised plan for exiting lockdown announced on Sunday, non-essential retailers will be able to open after October 19 if Melbourne's 14-day average daily case rate drops below five.
Hospitality businesses can also open at that point provided they offer mostly outdoor service and have group limits of 10 and overall capacity limits in place. But other businesses including beauty salons and gyms will not open until there have been no new cases in the state for a fortnight.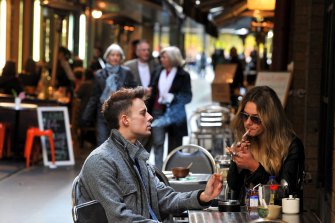 The news came as a blow to South Yarra gym Gript Studio managing director Drew Westfield, who said he was willing to work within limits set down by health authorities – like having one-on-one sessions – so they can start to open their doors again, but fears their concerns are falling on deaf ears.
"I've just come to terms with being disappointed with the announcements," Mr Westfield said. "The [exercise] industry is still being seen as high risk, despite the data from across Australia and throughout the world which shows that it's just not."
That same anxiety is reflected in small businesses throughout the Chapel Street area, said Chapel Street Precinct Association general manager Chrissie Maus.
"The anxiety is set at number 10 – that's why [Sunday's announcement] was a harrowing ride, and why another three weeks can be the nail in the coffin," she said.
She says businesses in the area are facing the combined pressures of renegotiating supplier contracts, rent and bills that continue to pile up, and that "many of the banks aren't playing ball".
"We have one active case in all of Stonnington, where our businesses are located," Ms Maus said. "Many business owners are on the verge burning out and some of them haven't made a cent since March."
Peter Strong, CEO of the Council of Small Business Organisations of Australia, said the moving target based on infection numbers would make it difficult for small retailers and hospitality operators to plan ahead, given they needed to order stock, train staff and implement a COVID-safe plan.
"It's not good enough information to help me make a decision," Mr Strong said, adding that the potential for restrictions to be reimposed if cases increase would also be a deterrent.
"Will I go and spend the $20,000 to open up a shop when I could be closed again a week later?
Businesses need certainty, otherwise it's not business any more it's called gambling."
Australian Retailers Association chief executive Paul Zahra said he was "deeply concerned" that non-essential retail would remain closed at least until mid-October.
"That is simply too close to Christmas trading to allow viable retail activity," Mr Zahra said, noting Victoria's current infection levels are where NSW was when it reopened non-essential retail in August.
However Mr Zahra applauded warehouses and distribution centres being able to return staff to normal levels, after being capped at two-thirds since August, saying it would ease national supply chain congestion in the lead-up to Christmas trading.
Woolworths and Coles both said their stores would remain open until 10pm from Monday following the removal of Melbourne's night-time curfew.
A Woolworths spokesman said being able to return its warehouses to full staff levels was a "welcome and timely development" which followed extensive safety consultation with the government.
A spokesman for the Business Council of Australia said the new road map was a "step in the right direction" but the government needed to give more certainty to businesses, particularly in retail and hospitality.
"Where businesses can operate safely with strict protocols in place, they should be allowed to open, and people should be allowed to work," he said.
Source: Thanks smh.com