A2 Milk hit by Victoria's lockdown as lucrative daigou sales collapse
Dairy firm a2 Milk has flagged a hit to its revenue as the lockdown in Victoria shuts down its most lucrative sales channel to getting its product into China.
The dual-listed company on Monday updated its outlook for the first half of 2020-21, saying it expected revenue of between $NZ725 million and $NZ775 million ($675 million and $721 million), below the $NZ806.7 million reported in the first half of 2019-20.
Full-year revenue is expected to be between $NZ1.8 billion and $NZ1.9 billion, up on the $NZ1.73 billion reported in 2019-20.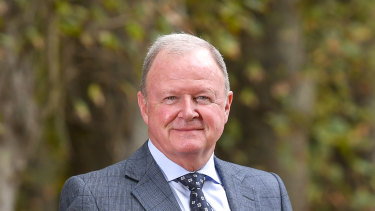 A2 said its lucrative corporate daigou channels had been disrupted by the COVID-19 pandemic, particularly by the lockdown in Victoria.
Sales to corporate daigou, highly organised shoppers who run their own businesses buying products in Australia to sell in China, represent a significant proportion of infant formula sales in Australia and New Zealand.
A2's ASX-listed shares plunged more than 10 per cent to a six-month low of $15.33 in reaction to the revised outlook. Shares closed down 11.42 per cent to $15.20.
Interim chief executive Geoffrey Babidge said the daigou channel had been very important to a2 establishing its brand in China.
"It's a channel that we have been able to manage well and it's one that we will support, and we'd like to be confident that will come back in a form that is still meaningful for our business in the medium term."
Mr Babidge said he was positive about the outlook "subject to the COVID situation in Victoria, or other states obviously being brought under control".
"We'd prefer a disruption such as this which, let's be clear, is substantially caused by external factors, did not take place," Mr Babidge said.
Andrew Mitchell from long-term investor Ophir Asset Management said a2 was still highly regarded and continued to win market share with Chinese consumers.
"We think ripping the Band-Aid off now with a swift cut to inventories is the most sensible decision, but painful in the short term. We fully expect trading margins for daigous will be quickly restored, improving their sales efforts as Melbourne emerges from lockdown," Mr Mitchell said.
A2 has been under scrutiny after its top executives sold millions of shares following the company's financial results in August. Chairman David Hearn sold 250,000 shares for $NZ5,077,500, Mr Babidge sold 100,000 shares and Asia Pacific chief executive Peter Nathan sold 750,000 shares.
Mr Babidge defended the share sales, saying "the company and management are completely aware of the continuous disclosure obligations, which was the case at the time, obviously, when the share sales were made during August.
"As you know there are limited windows when trading can also take place and that occurred immediately after the release of the 2019-20 financial results in a very short window."
Former investor Wilson Asset Management reduced its position in the company following the financial results and then exited entirely after the share sales. "Significant insider share sales announced by key executives were a catalyst for us to reassess our thesis and we subsequently exited our remaining position" Wilson Asset Management analyst Shaun Weick said.
"Our main concern was that the bulk of the company's key executives were selling – and not insignificant amounts – combined with the fact that there were already lingering concerns around daigou channel demand patterns, we felt the outlook was increasingly challenging in the short term."
Business Briefing
Start the day with major stories, exclusive coverage and expert opinion from our leading business journalists delivered to your inbox. Sign up for the Herald's here and The Age's here.
Source: Thanks smh.com