'It's my life and I'm going to overrule you': Packer insisted on Melco deal
One of James Packer's key lieutenants has admitted he should have done more to investigate whether selling a $1.7 billion stake in Crown Resorts last year could jeopardise the group's Sydney casino licence before he signed off on the deal.
The NSW government's probity inquiry into Crown heard on Monday that Mr Packer insisted on the agreement to offload a 19.9 per cent stake in Crown to Hong Kong group Melco, telling one of his executives: "it's my life, I'm going to overrule you".
The inquiry is looking at whether the May 2019 agreement for Mr Packer to sell 19.9 per cent of the shares in Crown to Hong Kong group Melco breached its casino licence by giving Macau casino kingpin Stanley Ho an indirect interest in Crown.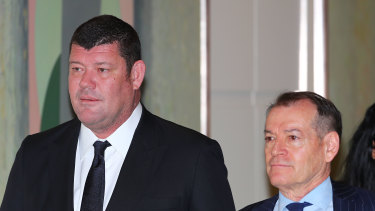 Mr Ho – the father of Melco boss Lawrence Ho who died in May this year aged 98 – and a list of associated individuals and entities are banned from involvement in Crown's Barangaroo casino because of long-standing alleged links to organised crime.
Michael Johnston, a Crown director and executive at Mr Packer's private company Consolidated Press Holdings (CPH), told the inquiry on Monday he presented Mr Packer with a number of different options to sell some or all of his 46 per cent stake in Crown in May last year.
However by May 23, Mr Packer had settled on a sale to Melco, telling Mr Johnston via text message: "Mike, it's my life, I'm going to overrule you", the inquiry heard.
Mr Johnston told the inquiry he phoned Crown's then-executive chairman John Alexander late on the night of May 30 to inform him of the Melco deal. Mr Alexander had just stepped off a plane in Los Angeles, where Mr Packer lives, and "didn't sound happy with the news".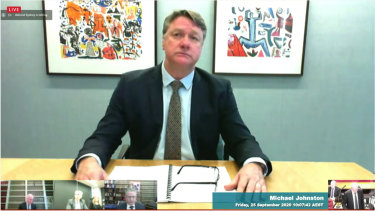 He said that was because the deal was a partial sale of Mr Packer's shares rather than a full takeover of Crown which Mr Packer had previously discussed with US casino group Wynn Resorts.
"His [Mr Alexander's] voice was very flat, which is understandable because if we had something like the Wynn transaction, he would have benefited quite handsomely under his executive remuneration plans, given he had [share] options," Mr Johnston said.
Mr Alexander stood down as executive chairman in January following a series of reports in this masthead about Crown's partnerships with organised crime-linked "junket" tour operators, but he remains a director of the company.
The inquiry heard Mr Johnston was aware that Stanley Ho had been involved with the Melco group of companies, stemming from Crown's Asian joint venture with Melco which it exited in 2017.
Despite that, Mr Johnston said he did not inform Crown's management nor his fellow Crown directors about the sale so they could consider any potential risks to its licence, and nor did he investigate whether Stanley Ho was involved in Melco at the time.
Commissioner Patricia Bergin, SC, asked Mr Johnston that given he knew the NSW government and state gambling regulator had been concerned about the Macau casino tycoon for many years, "wouldn't it have been a very good idea to check whether Stanley did have an interested in Melco?"
"There was no suggestion that Stanley had any interest in Melco Resorts…. based on our knowledge from that time, so there was nothing putting me on notice," Mr Johnston said.
He acknowledged though there was no way for him to know what had happened to Melco's ownership since the joint venture dissolved in 2017. "We thought we took the right advice at the time," Mr Johnston said. "With the benefit of hindsight I think that perhaps we should have looked more deeply".
The NSW Independent Liquor and Gaming Authority inquiry has the same powers as a royal commission and is considering whether Crown should keep the licence to its Barangaroo casino, which is due to open in December.
Melco sold the first 9.99 per cent of Crown shares it bought from Mr Packer after the inquiry was announced, while the second 9.99 per cent tranche of the deal never changed hands.
Mr Packer, Mr Alexander and other Crown directors have been called to give evidence this week.
Market Recap
A concise wrap of the day on the markets, breaking business news and expert opinion delivered to your inbox each afternoon. Sign up for the Herald's here and The Age's here.
Source: Thanks smh.com