NAB exec says JobKeeper cuts could lead to business closures
National Australia Bank business banking executive Tania Motton says cuts to JobKeeper could cause further business closures and loan impairments as the lender launches new services for its merchant customers.
Businesses receiving JobKeeper wage subsidies had fortnightly payments reduced from $1500 to $1200 on Monday, despite concerns of mounting unemployment and business insolvencies.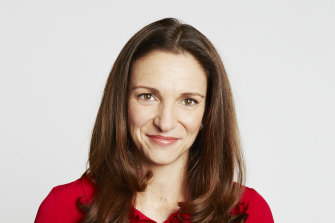 Ms Motton did not want to comment on whether she supported the next phase of the JobKeeper policy, but acknowledged the reduced rate would put pressure on small- and medium-sized businesses.
"The impact of not having JobKeeper will have an impact on their cash flow and ability to employ staff," Ms Motton said. "I'm genuinely concerned about businesses being able to navigate this environment."
Ms Motton said government subsidies were just one factor that would determine the viability of businesses going forward and welcomed moves towards deregulating the economy, including changes to responsible lending and insolvency laws.
NAB has approved around 40,000 business loan deferrals, Ms Motton said, and has guaranteed 6087 government-backed business support loans.
Around 15 per cent of NAB customers who had applied for loan deferrals had now started to make repayments, and the bank was routinely reaching out to affected customers to offer restructured or interest-only loan deals.
NAB has offered an additional four-month deferral extension to customers struggling with repayments, but Ms Motton said it was inevitable there would be further closures.
"Every year some small businesses don't survive," Ms Motton said. "The probability of that being more pronounced now with the pandemic, I think the answer is yes."
The comments come as NAB announced it will partner with UK-based fintech Pollinate to roll out software for its merchant customers that will give business owners greater access to sales data analytics, including average transaction values and payment types.
NAB's group executive for business and private banking, Andrew Irvine, said the technology would give small businesses the information needed to improve operations and grow sales.
"Real-time data that delivers greater insights into what customers want, when and how they want it, can be transformative to a small business," Mr Irvine said.
NAB will take a minority share in the company as the software is offered to its 73,000 merchant customers free of charge from early 2021.
NAB business customers will also benefit from the roll out of a 1.15 per cent flat fee for card transactions, that will replace the existing 10 pricing plans that include charges as high as 1.5 per cent.
Mr Irvine said more than 400,000 tap-and-go payments were made each day in Australia and the simplification of these fees would help businesses stay afloat.
"Small businesses are the backbone of the economy – Australia must do everything it can to support and strengthen businesses right now, making it easier for them to thrive and grow."
Business Briefing
Start the day with major stories, exclusive coverage and expert opinion from our leading business journalists delivered to your inbox. Sign up for the Herald's here and The Age's here.
Source: Thanks smh.com