The secretive Wall Street company that is worth $31b but has never made a profit
How much grace should you give a company before it starts making a profit? Palantir, which is expected to reach a $US22 billion ($31 billion) valuation when it trades publicly this week, is still making losses 17 years after it was founded.
Critics are using its mounting losses – $US579 million last year and similar to the 2018 figure – as ammunition, claiming the $US22 billion figure is overblown. Yet it is unlikely to put investors off. Uber and Tesla are just two of the technology heavyweights that operate this way.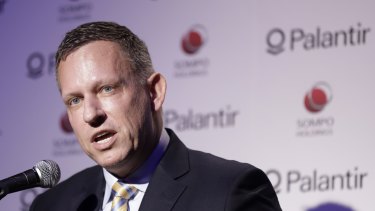 Palantir's balance sheet appears to be taking a turn for the better. The first half of 2020 it made a $US164 million loss compared with $US274 million in the same period last year. But investors might balk at Palantir's complicated voting structure, which echoes the grip WeWork founder Adam Neumann insisted ahead of the company's cancelled sale last year.
Wall Street may be reluctant too if few understand exactly what Palantir does. Owing to its work with governments and finance, details are wrapped up in tight non-disclosure agreements, and its two products: Foundry and Gotham are certainly not household names.
In essence, Palantir is a data integration and analysis tool. It was offered pro bono to the NHS to help predict when to purchase equipment in the COVID battle, counts BP as a customer and helps the UK and US armies find landmines. The British Government has spent millions on its services.
As of March, Palantir had 125 customers in 36 industries and 150 countries. These high value customers often spend more over time once they are locked in.
However, because of its diverse set of customers, and emphasis on bespoke service, Palantir effectively hands out employees to sit within businesses to design the data mining tools. Travel, employee costs and the possibility that a customer might change their mind after months of investment on Palantir's side are a concern. The data mining company has opted for a direct listing, floating its existing shares on the New York Stock Exchange and allowing the market to determine the price.
Palantir's three co-founders, billionaire Trump donor Peter Thiel, chief executive Alex Karp and president Stephen Cohen will retain a tight grip even as they sell their shares.
A complicated structure allows them to effectively control the company even if they own just 0.5 per cent of the shares. This may be more of a red flag for investors than its consecutive losses if they are concerned about negative publicity that might affect the stock.
Palantir has watched technology companies shy away from unpopular contracts including Google, which stood down from military drone project Maven, after employees and shareholders revolted. Palantir, whose lifeblood is often unpopular military work, from tracking down Osama bin Laden or providing custom and border patrol analysis for the UK after Brexit, cannot afford to expose itself to shareholders who might force them to abandon government contracts.
Backers looking for global growth might be disappointed to learn that Palantir is on a mission to only work with countries that support western liberal democracy, effectively ruling out the massive Chinese market.
An extraordinary letter to would-be investors, filed along with its pre-IPO documents, said it had "chosen sides" and will stand by them "when it is convenient, and when it is not".
Telegraph, London
Business Briefing
Start the day with major stories, exclusive coverage and expert opinion from our leading business journalists delivered to your inbox. Sign up for the Herald's here and The Age's here.
Source: Thanks smh.com