Three days in the making, Crown inquiry drops insider information bombshell
For three days the line of questioning inside the Commission of Inquiry into Crown Resorts had been pregnant with the possibility that allegations of insider trading would be aired. On Tuesday it was given birth.
During the dying moments of the morning session, counsel assisting the commission, Adam Bell, rose to the inquisitor's stand and woke up the inquiry audience with an abrupt opening question: "Do you understand that inside information for the purposes of the insider trading laws means information that is not generally available and if it were generally available a reasonable person would expect it to have a material impact on the value of the relevant financial product?"
Packer's long-time lieutenant – a director of both Crown and Packer's private company CPH – Michael Johnston had been effectively sideswiped. "In broad terms. Yes," was his brief response.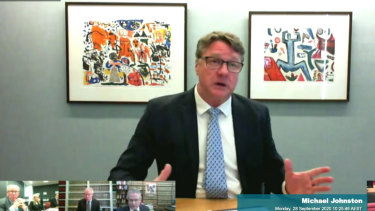 On Friday the inquiry heard that while in the process of negotiating the sale of a 19.9 per cent stake in Crown Resorts James Packer's private company, CPH, had provided the would-be purchaser Melco Resorts with confidential information about Crown including financial forecasts.
It was a piece of information worthy of a raised eyebrow.
On the face of it the provision of confidential information about a public company and the subsequent transaction in its shares by those in possession of this information could raise questions.
But there are other tests that need to be met in order to prove insider information has been traded – the major one is whether the information would have a material impact on the share price.
'Obviously the consequences of insider trading are very severe so you take a very conservative view on them.'

Michael Johnston, Crown and CPH director
And, according to Johnston's evidence, those financial forecasts were not price-sensitive because they did not fall much outside what sharemarket analysts were already forecasting. That raises the question of why CPH would bother to supply Melco with information that was roughly compatible with what the market already believed.
On Tuesday the inquiry heard about additional Crown information that was supplied to Melco by CPH – this included the cost of the Barangaroo casino project in Sydney, how many of the luxury apartments in the complex had been sold and at what price.
Additionally Melco was made privy to Crown's view of the status of a shareholder class action against it which stemmed from the arrests of China staff in 2016.
"Do you agree that a reasonable person might consider that some of that information would have a material impact on the price or value of Crown resorts shares?" Mr Bell asked.
Again Johnston denied that the information was price-sensitive because its contents were not inconsistent with that which had already been relayed to the market.
But here is the twist.
Johnston's evidence is that handing the information to Melco was CPH's attempt to exercise an abundance of caution that it could not be accused by Melco of trading in Crown shares when CPH had information not available to Melco.
"We thought it was appropriate to disclose these matters. Obviously the consequences of insider trading are very severe so you take a very conservative view on them," Johnston said.
This is despite Johnston's insistence that the information shared with Melco was below the threshold of price-sensitive information.
It is the kind of risk-averse behaviour by Crown that evidence presented during the inquiry suggests to be uncustomary for the gaming group. For example, evidence of ties to criminal organisations through junket operators and evidence of "structuring" inside bank accounts operated by Crown.
Packer was able to access extensive information about Crown despite the fact that he neither served as an executive or a director courtesy of a controlling shareholder protocol agreement put in place a few years ago.
Meanwhile Johnston explained to the inquiry that he argued against Packer selling the 19.9 per cent stake in Crown to Melco. Commissioner Patricia Bergin asked whether Johnston could have resisted Packer.
"Ultimately he could have removed me from office," he replied.
Business Briefing
Start the day with major stories, exclusive coverage and expert opinion from our leading business journalists delivered to your inbox. Sign up for the Herald's here and The Age's here.
Source: Thanks smh.com