Virgin's new owners Bain set to savage pilots' pay
Creditors and shareholders took their haircut under Virgin's administration and now it's the pilot's turn. They are facing changes to pay and conditions that could equate to significant reductions under new owners, Bain Capital.
It's a move that puts pressure on Qantas which will operate with a much higher level of employee cost.
Qantas signed off on a long haul pilot enterprise bargaining agreement in the months before the coronavirus pandemic hit, and its short haul agreement has a few years left to run.
There are many moving parts to the way pilots are remunerated. But the proposal being put by Virgin management involves a reduction in hourly pay, an increase in hours and a drop in the number of days off. The aim of the exercise is to vastly increase the productivity of pilots.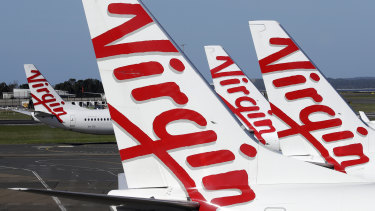 Virgin has already given the Virgin pilots union the broad brushstrokes of the pay and conditions issues it is seeking to address but little quantitative detail as negotiations on a new enterprise bargaining agreement are still in the early stages.
It has been estimated that the cuts in pay and conditions being sought run as high as an equivalent of 40 per cent but Virgin maintains this estimate is too high.
It's the thunderbolt that many in the industry had been waiting for but the savageness of the cuts is still surprising.
Bain decided to put off the thorny issue of dealing with staff remuneration while Virgin was under administration – a move viewed as securing staff support for its bid.
But radically resetting the airline's cost base was a fundamental part of the private equity group's roadmap for the future profitability of the airline for which it paid $3.5 billion.
The prospect of attacking wage costs and conditions to such an extent would have been unthinkable a year ago, but the COVID-19-induced near grounding of most of the domestic and international fleet of Australian airlines has shifted the tectonic plates for the aviation industry.
Bain's ability to reset Virgin pilots' pay is enabled in part by the expiry of their enterprise bargaining agreement but success in achieving the outcome has been enhanced by the fact that there are tens of thousands of surplus pilots around the world.
Ultimately pilots have little or no leverage with which to negotiate pay and conditions.
Already Virgin's flight attendants have been asked to take a cut of that magnitude – after cuts to allowances and perks are taken into account.
To date Virgin has slashed 3000 staff and 150 in head office, having stood down 6000 in the early days of COVID-19 and there is an expectation that this number will rise before the cull is complete.
Qantas is also considered unlikely to have completed its staff redundancies but like Virgin it is still being cushioned by Jobkeeper.
Qantas makes no secret of the fact that if Virgin cuts a swathe through the wages and conditions of its pilots it will be going to the unions to redress its competitive disadvantage.
It's the thunderbolt that many in the industry had been waiting for but the savageness of the cuts is still surprising.
It remains to be seen how this could be achieved under the existing enterprise bargaining agreements but Qantas boss Alan Joyce is legendary for playing hardball on industrial relations.
Only last week Qantas received a rebuke from the Federal Court for misusing JobKeeper and pocketing part of these government subsidies. The court rejected the airline's arguments that it could use workers' earnings paid in arrears to reduce the top-up amount it must make to get their pay to the minimum $1500 a fortnight required under JobKeeper.
Even before COVID hit Joyce managed to get a 30 per cent productivity lift when introducing direct flights from Perth to London and again on the Sunrise project to fly direct from Sydney and Melbourne to London, Paris and New York.
In the current circumstances he has a far greater incentive to empty every log to minimise costs.
Only a few weeks ago Joyce engineered an auction between the eastern state governments – to see which would provide the best incentive to house Qantas' head office and various other facilities.
Market Recap
A concise wrap of the day on the markets, breaking business news and expert opinion delivered to your inbox each afternoon. Sign up for the Herald's here and The Age's here.
Source: Thanks smh.com