Amazon: Nearly 20,000 workers tested positive for COVID-19
Amazon said nearly 20,000 of its workers have tested positive or been presumed positive for the virus that causes COVID-19.
But the world's largest retailer, revealing the data for the first time, said with 1.44 per cent of its workforce the infection rate of its employees was well below that seen in the general US population.
Amazon said in a corporate blog post on Thursday it examined data from March 1 to September 19 on 1.37 million frontline workers at Amazon and Whole Foods Market across the US, and compared it to the COVID-19 case rates to the general population, as reported by Johns Hopkins University for the same period.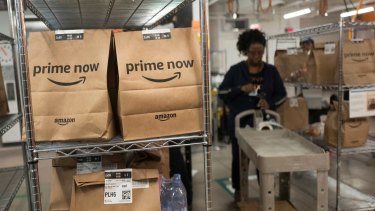 Based on that analysis, if the rate among Amazon and Whole Foods employees were the same as that for the general population, the company estimated it would have seen 33,952 cases among its workforce. That is 42 per cent higher that Amazon's actual case number of 19,816, which includes seasonal workers and those who may have been infected outside work, it said.
The online retail giant said it is conducting thousands of tests a day, which it would grow to 50,000 tests a day across 650 sites by November.
The analysis comes as Amazon, along with other retailers and meat packing plants, have been under increasing pressure by workers and labour-backed groups to go public with their COVID cases.
A lack of transparency about COVID-19 cases at work has left workers at various retailers including Amazon and Walmart to become amateur sleuths in their spare time. Unions and advocate groups have taken up the cause, too, creating lists or building online maps of stores where workers can self-report cases they know about.
The disclosure by Amazon offers a rare look at the disease's impact on a big US employer. Amazon has kept facilities open to meet a surge in demand from shoppers stuck at home, adding temperature checks, social distancing software and other safety procedures for its workers.
"We've eliminated stand-up meetings during shifts, moved information sharing to bulletin boards, staggered break times, and spread out chairs in breakrooms, among other steps," the company said in its blog post. "Cleaning occurs across each site about every 90 minutes to sanitise door handles, stairway handrails, lockers, elevator buttons, and touch screens."
Minnesota had the highest rate with nearly 32 infections per 1000 workers, versus nearly 16 for the public. Amazon has butted heads with a labour group there; it did not have comment on the specific rate.
"This information would be more powerful if there were similar data from other major employers to compare it to," Amazon said in the blog post, adding that it hopes the numbers "will prove useful as states make decisions about reopening public facilities and employers consider whether and how to bring people back to work."
Reuters/AP
Source: Thanks smh.com