Solomon Lew gears up for another attempt to oust Myer board
Billionaire retailer Solomon Lew appears to be gearing up for another attempt to topple Myer's board after requesting the embattled department store's shareholder register to contact minority investors for their support.
Mr Lew's retailing company Premier Investments, which holds an 11 per cent stake in Myer, formally demanded that the company provide it with a copy of the register, which lists names and addresses of all investors.
"Premier has requested these registers in order to consider writing to Myer's members in relation to any resolutions proposed at Myer's [annual general meeting] this year," Premier said in a statement to the ASX.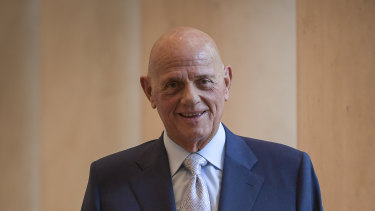 Mr Lew and Premier have been ramping up their attacks on the struggling department store chain following its $172 million loss announced in early September.
At the time, Mr Lew said the loss was "disastrous and shameful" and called for the board and chief executive John King to resign. Last week, he implied the company was headed for administration and further slammed its management.
The latest move mirrors steps taken by Mr Lew in 2017 and 2018, when the billionaire also reached out to thousands of Myer shareholders to garner support to spill Myer's management.
Both times, investment firm Investors Mutual blocked the billionaire's efforts to appoint three of his own lieutenants to the Myer board. However, with Investors Mutual selling out of its 10 per cent stake earlier this year, the only potential opposition comes from 7 per cent shareholder Wilson Asset Management (WAM).
WAM's chairman Geoff Wilson has historically been supportive of the Myer board, however last month he pressured the retailer to reduce its board fees and cut the number of board members, which it promptly did.
Source: Thanks smh.com