Celtic Club walks away from old club space
Celtic Club developer Beulah International has moved to sell space in the shell of the old hotel after the Irish club gave up its option earlier this year.
Four strata spaces, including one with a liquor licence and another with a balcony, are for sale in the foot of the new Paragon apartment tower, due for completion this summer.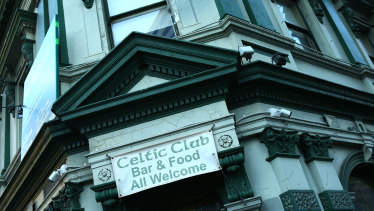 The club sold its grand three-storey hotel to the Malaysian developer in 2016 for $25.6 million with an option to buy a refurbished 2000 sq m space on the ground floor to house the club in.
That agreement came undone earlier this year when the Celtic Club found there was no lift access to their rooms on the plans and the project was months behind schedule.
Celtic Club chairman Brian Shanahan said the club is still looking for a new permanent home.
It has been leasing the Metropolitan Hotel in North Melbourne and renting office space nearby.
Colliers International agents Chris Ling, Anthony Kirwan and George Davies are marketing the newly named Paragon Workspaces and expecting prices of between $2 million and $5 million depending on the size and aspect of the selected space.
New owners will have access to the tower's amenities and surprisingly, lifts, which now feature in the plans.
It's been a quiet year for strata deals – just four over $1 million have taken place since lockdown started in April. Last year, 35 offices had changed hands.
Mortgagee sales
New listings are still quite rare with many agents waiting for the green light on commercial property inspections before going ahead. But mortgagee listings are starting to trickle in.
Newpoint Advisory has been appointed by Centaur Property to sell a 485 sq m Windsor corner site.
Records show 34-36 James Street – a two-storey duplex and its neighbouring house – were purchased by Windsor Life for $3.85 million. Vive Developments director Greg Shaw helms Windsor Life.
CBRE agents David Minty, Nathan Mufale, Alex Brierley and JJ Heng have the listing.
It has a permit for four three-level townhouses designed by Workroom Design architects and is off Chapel Street, near Windsor station.
Meanwhile, in Cremorne an empty plot of Commercial 2-zoned land is on the market.
The 414 sq m site at 11-13 Pearson Street has just received an extension from the City of Yarra for a permit that allows five floors of office and two levels of residential.
Colliers International agents Ben Baines, Ted Dwyer and Alex Browne are running the expressions of interest campaign which closes on October 29.
The site is a block back from East Richmond station and is expected to fetch more than $4.5 million.
Co-working beauty
Queensland beauty-based co-working operator Freedom Suites has made its first foray into the Melbourne market with a 290 sq m space at 166 Gertrude Street, Fitzroy.
In much the same way that co-working office groups rent space and then sub-lets desks and offices to individual users, Freedom Suites rents kitted-out private spaces to hair and beauty service providers.
CBRE agents Jason Orenbuch and Zelman Ainsworth leased shop four of the new apartment building on the corner of George and Gertrude streets.
Mr Ainsworth said there are a number of local and interstate groups keen to get ready for 2021.
"There is a pent up demand from retailers wanting to inspect properties and negotiate face to face, something that has not been as effective virtually," he said.
Ship ahoy!
Global ship building company Navantia has merged two offices in Docklands for a new local base for its Australian arm.
Navantia Australia has signed a five year lease on 623 sq m of space on level eight at 401 Docklands Drive.
It's across the road from its current berth at No.380 and boasts sea views and terraces.
Colliers agents Zak Seccull and Alissa Woods managed the complex leasing deal with two individual private landlords who agreed to build a new fit out as part of the negotiations.
"Navantia Australian was seeking a slightly larger and modern tenancy for the Melbourne Naval Design and Engineering Centre," Mr Seccull said.
Based in Spain, Navantia has been anchored in Australia since 2000, providing shipbuilding expertise to the Royal Australian Navy.
"The bulk of tenant enquiry we have received since COVID-19 is focussed on fully fitted opportunities given capital expenditure within organisations is tight and many tenants have let their leases run close to their expiry dates," he said.
"We believe fitted office space is going to be in high demand when organisations do decide to return to work," he said.
Source: Thanks smh.com