Crown inquiry LIVE updates: James Packer threatened high-profile businessman over privatisation deal in email
Summary
Inquiry is investigating probity issues at casino giant Crown Resorts 
Commissioner Patricia Bergin will report on whether Crown is fit to keep the licence for its new casino at Sydney's Barangaroo 
James Packer, who owns 36 per cent of Crown, has been called to give evidence about his involvement in the business 
Issues raised include Crown going into business with figures linked organised crime, money laundering at its Melbourne and Perth casinos, and the arrest of 19 staff in China in 2016
Pinned post from
Watch live: Packer fronts inquiry
James Packer is appearing before the NSW inquiry into Crown casino's junkets and money-laundering.
Latest updates
Packer's integrity questioned
It appears the inquiry is looking at this threat Mr Packer made to this Mr X as the part of a consideration of whether Packer should be allowed to be a "close associate" of Crown.
If the inquiry says he can't be, then he may be forced to sell down his shareholding for its current 36 per cent to less than 10 per cent.
Here's more of counsel assisting Andrew Bell, SC, questioning of Mr Packer:
Mr Bell: How can the nsw regulator have any confidence in your character and integrity in light of these emails?
Mr Packer: Because I was sick at the time.
Mr Bell: You say you resigned from Crown Resorts because you were sick at the time?
Mr Packer: Yes
Mr Bell: A did you disclose that to your colleagues on the board of Crown Resorts?
Mr Packer: I can't recall.
Packer accused of making threats
By

Patrick Hatch



We know now why these emails were so sensitive: it appears Mr Packer was sent a threat to the mysterious Mr X.
Here's the transcript:
Adam Bell, counsel assisting: You accept you were making threat against Mr X in these emails?
James Packer: Yes.
Mr Bell: And you understood Mr X might be put in fear by those threats?
Mr Packer: No that came as a surprise to me
Mr Bell: Do you accept your conduct in these emails was shameful?
Mr Packer: I do.
Mr Bell: And you were a director of Crown Resorts when you wrote these emails were you?
Mr Packer: I can't recall
Mr Bell: You accept your conduct in these emails was disgraceful don't you?
Mr Packer: Yes.
Hearing to resume shortly
By

Sarah Danckert



The live feed of the inquiry's hearing briefly was back live for public viewing, but only for a minute.
The legal teams are now taking a five to ten minute break and then we'll be back on and hopefully find out about Mr Packer's emails and dealings with privatisation offers and Israeli billionaire Arnon Milchan
Play still delayed
By

Sarah Danckert



This delay in public proceedings is frustrating for those wanting to keep track. But it's common for inquiry hearings to be closed for a short period of time to discuss legal points.
(Though there was little in camera evidence during the banking royal commission, despite banks having rafts of confidential information presented to the commission.)
Mr Packer and his legal team have the legal right to challenge whether these 13 sensitive emails are entered as evidence by the inquiry.
Of course, he wrote them at a time of his life when he was in a state of "deep personal crisis" the inquiry has already heard.
But whether that is enough of an argument to sway former judge Patricia Bergin, who is overseeing the inquiry, from keeping the emails out of evidence is anyone's guess at this point.
Still waiting for a glimpse of Mr Packer's emails
By

Sarah Danckert



We're still in a closed hearing while counsel assisting the inquiry and lawyers for James Packer discuss whether these 13 highly sensitive emails will be made public.
Mr Packer's legal team would like them to stay private and, of course, the Inquiry has other ideas. These seem like some particularly juicy emails.
Given the hearing is expected to close for the day at 4pm, time is ticking here.
But don't worry Packer fans, we have a feeling the casino mogul will be back on Wednesday to answer more questions.
Mossad connection, $9.1b privatisation – where is this going?
By

Patrick Hatch



The inquiry has taken a very unexpected turn early on, with Mr Packer being questioned about his relationship with Arnon Milchan, an Israeli billionaire and confidant of the president Benjamin Netanyahu, and also a 2015 plan to privatise Crown.
This is ground that inquiry has not covered so far in its 36 days of public hearings.
The inquiry is told that Mr Packer and Mr Milchan were in 2015 planning a cyber security business together which was to involve a figure connected to Mossad. The relevance of that is not clear.
Mr Packer was taken to journalist Damon Kitney's book Price of Fortune, by Mr Bell.
Mr Bell asked: "You're quoted as saying that Mr Milchan is maybe the most charming and deadly person I've ever met. What did you mean by that.
"I meant that I would hate to cross him and that he is extraordinarily charming."
Counsel assisting the inquiry Adam Bell, SC, then introduces two individuals and one company which are to be referred to only by pseudonym: Mr X, Mr Y and the company Z Co.
We're then told that in November 2015, after Mr Packer left the Crown board, he and then chair Robert Rankin planned privatising Crown. (Mr Packer owed about 53 per cent of the company at the time).
Mr Bell says that Z Co was one of the private equity firms they talk to about privatisation, and Mr Y and Mr X were two of the firm's principals.
"That's correct," says Mr Packer.
Mr Bell says the proposal was that Zed Co would put $1.5 billion into the Crown privatisation, based on Crown's current valuation of $9.1 billion.
Mr Packer, however, says he can't recall that. So Mr Bell takes him to a series of emails, that we can only assume spells this out. Z Co comes back and says that it could only provide $400 million.
Mr Bell then takes Packer to another bundle of 13 emails, which is where Packer's legal team interject asking for a confidentiality and non-publication order, with the argument we posted earlier that:
"These communications took place at a state of deep personal crisis of [Mr Packer], the matters if you look at them are matters that will be reflective of that and in our submission there is no public interest in disclosing them".
That's why the public stream has been cut off.
Where the inquiry is going with this is not clear. Fair to say though, it's not what we expected to be hearing about.
Interlude to decide on secret emails
By

Sarah Danckert



We've taken a short break so that Mr Packer can be asked about those emails sent in 2015 about a proposed privatisation deal in a closed hearing.
His lawyers were granted their request for these questions to be asked in private because of concerns about his state of mind at the time of writing the messages.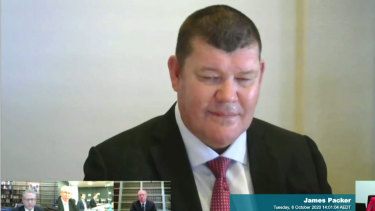 The first 40 minutes of the inquiry have been pretty jammed packed but very high level questions, which could indicate that we will start to dig in deeper into issues later during today's hearing.
We've touched on Mr Packer's relationships in Israel, China. A biography about him by journalist Damon Kitney was also tendered into evidence. Mr Packer said he only skim read the book and did not read it "cover to cover".
Mr X, Mr Y, Company Z and the secret offer
By

Sarah Danckert



We've entered into one of those strange bits of a public inquiry where certain elements of information are hiding behind suppression orders.
So the inquiry is going through discussions between Mr Packer, and a mysteriously Mr X and a mysterious Mr Y from company Z. This goes to a $400 million privatisation offer mulled by Mr Packer in 2015.
Lawyer for Mr Packer, Noel Hutley, SC, is seeking to have a whole bundle of emails not being presented to the inquiry because it would be unfair to Mr Packer.
"These communications took place at a state of deep personal crisis of my client, the matters if you look at them are matters that will be reflective of that and in our submission there is no public interest in disclosing them," Mr Hutley said.
Chinese high rollers not top of mind, Packer says
By

Patrick Hatch



Counsel assisting Adam Bell, SC, has taken Mr Packer back to 2015, when he was a Crown director and the company was investing heavily in the Chinese "VIP" high roller business, which was starting to bring in big bucks for its casinos in Melbourne and Perth.
This aggressive strategy ended with in the arrest of 19 Crown staff in China in 2016.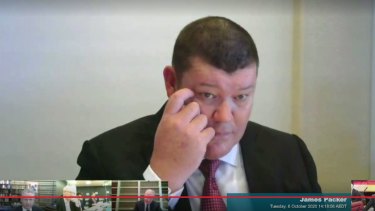 Mr Bell asked Mr Packer whether he was aware Crown was investing heavily in this part of the business. "I can't recall," he said.
"You had a particular interest didn't, you in the VIP business of crown resorts?" Mr Bell asked.
"No more than my interest in other areas of Crown Resorts," Mr Packer responded.
'I wasn't well': Packer quizzed on Crown exit
By

Sarah Danckert



Counsel assisting the inquiry Adam Bell, SC, is taking Mr Packer through his first series of questions about his resignation from Crown in March 2015 .
When asked why he left the company he told the inquiry: "I wasn't well."
Mr Packer was widely known to have suffered mental health problems during that period.
Mr Bell takes Mr Packer through some of Mr Packer's written statements to the inquiry, which says that Mr Packer has been on heavy medication for several years which impedes his ability to remember events from his time on Crown's board.
However, Mr Packer says that reviewing documents from the time can assist his recollection
Source: Thanks smh.com