Deagues to sell $34 million car parking portfolio
Melbourne's wealthy Deague family is selling a trio of city car parks, worth an estimated $34 million, ahead of an expected surge in driver demand as the city's lockdown slowly lifts.
The strata car park portfolio includes 74 bays in 480 Collins Street worth an estimated $10 million, another six levels and 523 bays in 1 Queens Road with a value around $18 million, and 80 spots at 452 St Kilda Road that could fetch $6 million.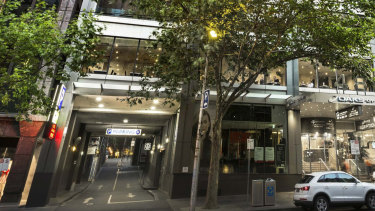 Together, the fully leased portfolio has 677 bays and 64 storage units with a 5.37 year weighted average lease expiry and total net income of more than $2,045,000 per annum.
The car parks are controlled by the family's Asian Pacific Building Corporation and are residual holdings in three buildings that the Deagues purchased more than a decade ago, redeveloped and subsequently sold off.
Two of the car parks are managed by Wilson Parking. A third, the Collins Street venue, is in the basement of the Oaks on Collins Hotel.
Fitzroys' Paul Burns, who is handling the sale with Chris James, said the three properties would be sold in one line or separately.
Mr Burns said even with the uncertainty caused by the pandemic, there was a "deep pool" of buyers looking for securely leased property that was likely to hold its value.
"Post-COVID people will be driving to work, not taking public transport. We think it's a really healthy outlook," he said.
The high-flying Deagues run a property dynasty spanning five generations, led by patriarch David Deague and eldest son Will Deague, that is known for the Art Series Hotels and other commercial and residential developments.
Their car park portfolio is expected to sell on a combined yield of about 6 per cent. "The tenants in these assets have committed to not seek any rent relief as a consequence of the COVID-19 situation," Mr Burns said.
Sales of city car parks have been few and far between lately. The most recent transaction was for a standalone venue with development potential at 522 Flinders Lane that Investa Property Group purchased from Schiavello Group in September last year for $96 million.
Source: Thanks smh.com