'The valuation is absurd': US investor attempts to block Village Roadshow deal
US-based investment fund Mittleman Brothers is threatening to sue the directors of Village Roadshow in an attempt to thwart a $758 million takeover of the ASX-listed cinema and theme parks operator.
In an strongly worded letter sent to the ASX on Tuesday, Mittleman chief investment officer Christopher Mittleman accused Village Roadshow's directors and an independent committee of failing to discharge their duties to shareholders while fielding a takeover bid from Melbourne-based private equity firm, BGH.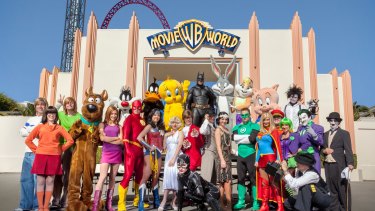 The investor, which now holds a 10 per cent stake in Village, has also engaged lawyers to petition the corporate regulator to intervene and is considering suing board directors and an independent committee for failing to represent the interests of shareholders.
"Given our belief that the [Independent Board Committee] and the VRL board of directors have not properly discharged their duty to act in the interests of VRL shareholders by protecting them from blatant opportunism on the part of BGH, we have engaged legal counsel in Australia to petition ASIC in hopes of garnering regulatory intervention, and failing that, having our objections
brought to the attention of the Court," Mr Mittleman wrote.
Village Roadshow, which owns Sea World, Warners Bros. Movie World and Wet n Wild, is midway through a takeover attempt by BGH, which Mittleman has repeatedly attempted to block and stall. Mittleman, the largest independent shareholder, disclosed to the ASX that it has lifted its stake from 8.5 per cent to 10.1 per cent and plans to vote against the two proposed takeover structures at an upcoming shareholder meeting.
Village Roadshow Corporation owns 34 per cent of the ASX-listed Village Roadshow and is owned equally by board members and brothers John Kirby, Robert Kirby and former chief executive and major shareholder Graham Burke. The three each own additional shares, a combined controlling 42 per cent voting stake. Under the deal announced in August, Village and BGH would enter into an agreement where shareholders could receive up to $2.45 per share.
Structure A would consist of a base price of $2.20 per share, with an additional 25¢ per share dependent on the reopening of theme parks and cinemas and Queensland borders being reopened to people from NSW and Victoria. The Kirby brothers and Mr Burke cannot vote under structure A.
If rejected, structure B would be a lower $2.10 per share offer. It would also include the same 25¢ additional payments if conditions are met.
Mr Mittleman said the two arrangements were opaque and likely to confuse stakeholders.
"It should be, in our view, common sense to reject this unprecedented dual-structure scheme at a rock-bottom valuation in the midst of one of the worst macro-economic back-drops in history, and where the controlling shareholders are conflicted," he said. "We encourage all VRL shareholders to also vote against these Schemes, as they appear to us to be unprecedented in structure, opaque in detail, and highly likely to confuse, coerce, and ultimately to deprive existing VRL shareholders…of the intrinsic value of their VRL shares.
"The coercive nature of the dual structure…is apparent and we believe likely harmful to retail shareholders, while the timing could not be more opportunistic, and the valuation is absurd."
Village Roadshow was hit hard by the coronavirus pandemic which prompted its cinemas and theme parks to suspend trading. While parks and some cinemas in the portfolio have been gradually opening since June, the company has continued to lose money amid the softer tradition conditions.
In August, the company secured a $70 million funding lifeline from banks and the Queensland Government which was expected to ease financial constraints as the takeover talks continued.
Mittleman holds stakes in several companies that have suffered from the weak market conditions including American theatre chain AMC Entertainment Holdings and Canadian entertainment company Cineplex. ABS-CBN Corporation, a Filipino media group, in which it had a 4.5 per cent stake as of June 30, had its television license revoked.
Mr Mittleman said he believed market conditions would improve substantially for Village Roadshow over the coming years due to pent up demand and major transport improvements in Queensland. He told The Australian Financial Review in June that $5 per share was a fair offer.
Source: Thanks smh.com