Big bank chiefs welcome budget but economists wary on 'optimistic' government outlook
Bank chief executives have welcomed the business-focused federal budget, saying it will help rebuild the battered economy, but senior economists have cautioned the government's outlook may be overly optimistic.
The big four banks are among the businesses excluded from the $27 billion investment allowance, that allows businesses earning less than $5 billion per year to deduct the full cost of any asset worth up to $150,000.
The instant asset write-off scheme will cover 99 per cent of businesses employing 11.5 million people and National Australia Bank chief executive Ross McEwan said this will help drive the country's economic activity through the pandemic.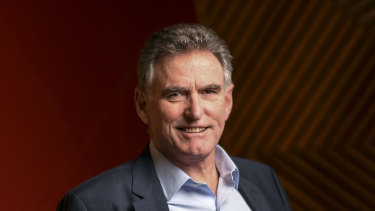 "We must do everything we can to support and strengthen businesses right now and the budget measures announced by the government will certainly help to do that as we begin to transition from support to stimulus," Mr McEwan said.
Commonwealth Bank of Australia chief executive Matt Comyn singled out the asset write-off scheme as an efficient way to stimulate spending.
"In particular, we welcome the financial support to encourage business to invest in new equipment, take on more skilled workers and provide new opportunities for young people that together over time will help to bring down the rise in unemployment," Mr Comyn said.
However, NAB's chief economist Alan Oster said the government's economic forecasts, that are underpinned by the assumption of a widely available vaccine by the end of next year, might be overly optimistic.
NAB has predicted worse economic conditions across almost all measures including GDP, unemployment and export growth and Mr Oster said "structural reform would have also been useful" alongside the stimulus.
"Fundamentally we are much more worried about the outlook than the forecasts published by the Treasury," Mr Oster said.
ANZ's economic outlook was also slightly more pessimistic than Treasury's but senior economist Cherelle Murphy said the government could introduce another round of spending and tax cuts if a vaccine was not developed in the expected timeframe.
"There's always a risk when you have to make a big assumption like that," Ms Murphy said. "But the important thing to take away is if it looks like that's not going to be the case, the government can revise its numbers and revise its policies."
Westpac's chief economist Bill Evans said its forecasts were aligned on some metrics, including the country's consumption profile, but the GDP growth was way off. "It's eye popping when you look at it, 'Wow where did that come from'," he said. "I don't feel inclined to dismiss it, but it looks optimistic, it's been a long while since Australia has had 4.75 per cent year-on-year average GDP growth."
Ms Murphy agreed the budget was geared towards helping businesses through the recession, and noted the lack of any major infrastructure projects, like the NBN, to create jobs.
"The government is obviously trying to move the engine room of growth from itself to the private sector," she said. "The government doesn't want to be the one rescuing the economy from here on out, it's saying 'this is what we're going to spend, now it's up to you guys'."
It's eye popping when you look at it, 'Wow where did that come from'. I don't feel inclined to dismiss it, but it looks optimistic, it's been a long while since Australia has had 4.75 per cent year-on-year average GDP growth.

Westpac chief economist Bill Evans
The ANZ economist said it was not clear the asset write-offs would have a major impact on the economy. "It's dependent on whether or not there's something businesses believe is worth investing in.
"This has been a problem in the Australian economy for some time. The private sector has not shown willingness to go ahead and spend, deposit interest rates being really low."
Prime Minister Scott Morrison told ABC radio on Wednesday morning a delayed vaccine would have no impact on the current policies.
"Having an income tax cut is not dependent on whether there's a vaccine or not. It's not. That is just the assumption that is made as to what is the, our best understanding of the economic conditions at this time, which is no different to any other budget," Mr Morrison said.
The government has also put aside $2 billion towards the research and development tax incentive scheme, with Treasurer Josh Frydenberg calling digital technology "critical to Australia's future prosperity".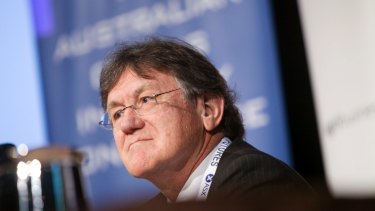 Mr McEwan said R&D incentives had been among the key issues raised by the bank's business customers, "so it's good to see measures addressing this area".
The crown jewel of Mr Frydenberg's greatly anticipated budget is the $17.8 billion plan to give personal tax-cuts to 11.5 million workers within weeks. Mr McEwan also praised this initiative.
"Personal income tax cuts and extra payments for age pensioners will put money back in peoples' hands and we welcome continued efforts to help Australians buy their first home," he said.
Mr Comyn said the budget's measures would "directly and indirectly" impact CBA customers, many of whom remained on loan deferrals.
"Equipping the Australian economy with new ways to invest and support our training, research, development and innovation capabilities will also be key to creating new jobs in the digital economy as the country pulls itself out of recession."
Mr McEwan called on the private sector to help the economic recovery.
"Getting businesses going again isn't just the responsibility of governments. Companies like NAB must also step up. We all have a responsibility to do our part to ensure Australia emerges as a stronger global player on the other side of this," he said.
This week, NAB hired an additional 500 business bankers to support customers restructure loans and navigate the recession and provide access to low-interest capital through the government's loan guarantee scheme for SMEs.
NAB has approved around 40,000 business loan deferrals since the pandemic begun and has guaranteed 6087 government-backed business support loans. Around 15 per cent of customers have begun to make partial or full repayments, but Mr McEwan has acknowledged there is a long way to go.
Market Recap
A concise wrap of the day on the markets, breaking business news and expert opinion delivered to your inbox each afternoon. Sign up for the Herald's here and The Age's here.
Source: Thanks smh.com