Crown Inquiry LIVE updates: James Packer says key executives 'let him down'
Summary
Inquiry is investigating probity issues at casino giant Crown Resorts 
Commissioner Patricia Bergin will report on whether Crown is fit to keep the licence for its new casino at Sydney's Barangaroo
James Packer, who owns 36 per cent of Crown, admitted he sent "shameful" and "disgraceful" emails threatening a businessman looking to make a privatisation offer for the casino group
Other issues raised at the inquiry include Crown going into business with figures linked organised crime, money laundering at its Melbourne and Perth casinos, and the arrest of 19 staff in China in 2016
Pinned post from
Watch live: NSW inquiry into Crown casino
It's James Packer's second appearance at the inquiry into casino giant Crown Resorts.
Latest updates
We've just taken a short adjournment
The hearing will resume in 10 minutes.
Why was Packer 'kept in the dark'
By

Sarah Danckert



Commissioner Patricia Bergin has taken over questioning for a few minutes. Here's her exchange with James Packer just now which goes to why Packer was, as he claims, kept in the dark over the risk to Crown's employees working China of being arrested. As we know, a group of them were in 2015.
Bergin: So the bad news wasn't reflected in the (company's) budget?
Packer: It always came in lower.
Bergin: Is one reason that you weren't informed is that they were not telling you the bad news from China because they did not want to displease you?
Packer: I believe Madam Commissioner I always wanted bad news.
Bergin: But I'm asking you for an explanation for you being kept in the dark as you told me you were.
Packer: Well, Mr Craigie was kept in the dark according to his evidence. I can't explain it, it shouldn't have happened.
Bergin: Were you ever made aware that Mr Rankin had suggested that the company should be on high alert, in respect of any possibility of similar arrests of your employees as those of the Korean operator employees?
Packer: No I was not aware of that.
Packer accepts responsibility for 'some' failures
By

Sarah Danckert



We've just had quite the admission by James Packer.
Counsel assisting Adam Bell, SC, has just asked Packer whether, as chairman, he accepts any responsibility for Crown's failures to manage the risks of doing business in China.
"I accept some. Not all but some," Packer says.
Bell then asks: "Do you attribute this [failure] to a corporate culture that focused excessively on profits?
Packer: "No, I disagree with that."
Packer later tries to explain that he believes information was not passed on through the proper processes so that it reached board level.
"A lot of things I've heard in this inquiry have been a shock to me."
A difficult point for Packer
By

Patrick Hatch



While James Packer has been busy attributing blame for what happened in China on former CEO Rowen Craigie all morning, counsel assisting Adam Bell,SC, raises a difficult point for Packer.
That is that Michael Johnston – who worked for Packer's private company and represented Packer on Crown's board – also knew about the key incident that showed doing business in China was getting risky.
They included that Chinese police detained and questioned a Crown staff member on suspicion of organising gambling tours in mid-2015. Johnston never raised this with the rest of Crown's board.
You can read more about that here.
'Difficult to understand'
By

Patrick Hatch



James Packer has once again laid into Crown's former chief executive Rowen Craigie for not knowing about the escalating risks Crown's staff were facing in China in 2015.
"Mr Craigie must have been asking no questions," he says. "In an incident like this, for a chief executive not to drill down, especially when I had asked him to, is difficult to understand."
He also says that Crown executive Barry Felstead, who was in charge of the VIP program, was also at fault for not telling Mr Craigie.
Executives go under the bus, again
By

Patrick Hatch



James Packer is now being asked by counsel assisting the inquiry Adam Bell, SC, if he remembers reading news reports in early 2015 about China launching a crackdown on foreign casinos luring Chinese citizens to gamble overseas.
"I can't recall," Packer says.
Crown executive Barry Felstead and Crown director Michael Johnston both knew about the announcement, the inquiry has heard, but Packer says he can't remember if they told him.
Packer says he did become aware of the crackdown in mid-2015 when staff from a South Korean casino were arrested in China.
Asked why he did not alert the rest of the Crown board or risk management committee about the crackdown, Packer says: "I saw that as Rowen [Craigie]'s responsibility."
He agrees there was a failure in risk management at Crown at the time and again he throws Craigie and Robert Rankin under the bus.
"I believe Mr Rankin and Mr Craigie let the side down," Packer says.
Packer says he wasn't told of staff arrest fears
By

Sarah Danckert



Counsel assisting the inquiry Adam Bell, SC, is taking James Packer through emails that showed Crown's staff in China were terrified of being arrested.
The inquiry has already heard in August that staff were deeply concerned they were operating outside the law. And for good reason it turned out, given the arrests of Crown staff in 2016.
Here's the exchange:
Bell: Are you aware that the staff in China were saying they feared for their safety?
Packer: No, I wasn't.
Bell: This expression of being in constant fear by the staff in China was an important issue that you needed to be aware of as chairman of Crown Resorts.
Packer: Yes … It should have gone to the risk committee first, then to the board and then it would have been brought to my attention.
Bell: Certainly your loyal staff member Mr [Barry] Felstead told you of the concerns of Crown staff in China.
Packer: No, he did not.
I don't understand why Mr [Rowen] Craigie didn't tell me about this matter … Mr Craigie was specifically asked to look into the Korean arrests and to look into what we were doing in China and make sure we were taking appropriate steps.
'Mr Rankin and Mr Craigie let me down'
By

Patrick Hatch



James Packer has said that former Crown Resorts senior executives Robert Rankin and Rowen Craigie let him down by not telling him more about the legal advice the casino group relied on for its activities in China.
Counsel assisting Adam Bell, SC, has taken Packer through the legal advice Crown's VIP team had leading up to the arrests of 19 Crown staff in China in 2016 on gambling crimes.
"It would be fair to say that, in 2015, I thought China was a different place than it's turned out to be," Packer said.
Packer said that, as Crown's chairman up to August 2015, he did not personally read any of the external legal advice its VIP received.
"I asked Mr Craigie and Mr Rankin to be on top of the issues," he said.
But he said he was not aware that the VIP's legal advice was never checked or shared with Crown's own legal team, nor that Craigie did not know the "factual assumptions" behind the advice.
Packer agreed with Bell that this was a failure of risk management. Bell then asked how, as chairman, this happened.
"I believe Mr Rankin and Mr Craigie let me down."
Packer's back in the stand
By

Sarah Danckert



James Packer is back in the virtual witness stand giving evidence via videolink from his super yacht IJE.
He has again favoured a dark suit but today he looks more focused than yesterday and it appears they've got the airconditioning working on his luxury boat. And he's wearing reading glasses too.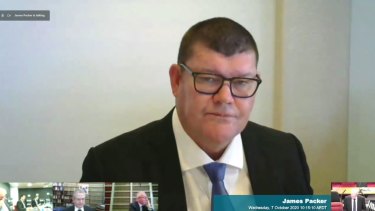 Right now the inquiry is starting to dig into the legal advice that Crown received about its Chinese operations.
"It would be fair to say that, in 2015, I thought China was a different place than it's turned out to be," Packer said.
Source: Thanks smh.com