Activist shareholders question Boral board appointments
Boral has drawn fire over the appointment of two executives from Kerry Stokes' Seven Group to its board, with two activist shareholders claiming it gives Seven excessive influence over the building materials giant.
Paul Skamvougeras from Perpetual Investments and John Wylie from Tanarra Capital, in a letter sent to Boral chairman Kathryn Fagg this week, said the appointments give Seven Group "disproportionate" representation on Boral's board.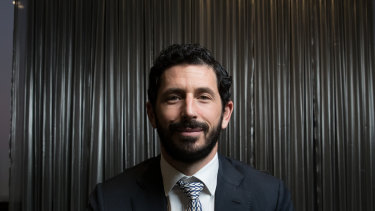 Last week Boral announced substantial board changes, including the appointment of Ryan Stokes, the chief executive of Seven Group Holdings and son of billionaire Kerry Stokes. It also announced the appointment of Richard Richards, chief financial officer of Seven Group, to its board.
Seven has been building its stake in Boral throughout 2020 and according to the most recent filing holds a hefty 19.984 per cent stake in Boral.
In their letter Mr Wylie and Mr Skamvougeras said they represented more than 10 per cent of Boral's share capital and were acting independently, but had similar concerns.
"Our issues go to the disproportionate nature of Seven being granted two board seats relative to its shareholding, which gives excessive influence to one shareholder in the company; the lack of obvious incremental benefit to the company by entering into these arrangements; and the lack of transparency around the contractual arrangements that have been entered into," they wrote.
They stressed that their criticism was not personal, and that both Mr Stokes and Mr Richards enjoyed strong business reputations.
"Our issues, as managers of institutional capital on behalf of a very large number of Australians with a substantial investment in Boral, go to principles of corporate governance in one of Australia's best known blue-chip public companies," they said.
"Can you please explain why Seven was awarded two board seats, which represents 25 per cent of the non-executive positions on the board after the 2020 AGM and 29 per cent after the signalled retirement of Paul Rayner – materially greater than its shareholding interest," the letter asked.
The investors added Boral had not disclosed full terms of agreements with Boral, Mr Stokes and Mr Richards, and that the market had a "legitimate interest" in understanding the details.
In addition to the concerns raised the activist investors also noted that Boral's fortunes had improved in recent times and said the appointment of new CEO Zlatko Todorcevski was shaping as a good move.
In a statement Boral said it had put in place arrangements to ensure proper protection of confidential Boral information. "These arrangements are standard practice for any nominee director appointment by a significant shareholder," it said.
"In terms of the Seven Group Holdings nominees, Boral considers that both nominees have experience suitable for directors and will add to the skills and capability of the board. Both nominees have acknowledged the importance of acting in the interests of all Boral shareholders and managing any conflicts of interest carefully," Boral said.
A source with knowledge of the agreement between Seven Group and Boral said that it was a simple information sharing and confidentiality agreement that was typical in situations where a major shareholder was on a company board.
Boral shares closed up 1.4 per cent on Friday at $4.98, while Seven Group Holdings shares rose 1.2 per cent to $21.
Source: Thanks smh.com