Crown director Harold Mitchell hopes to never hear the word 'junket' again
Crown Resorts director Harold Mitchell has told an inquiry into the casino group that the company should have never dealt with high rollers with criminal records and he hopes he never hears the word junket again.
Mr Mitchell, who has been a Crown director since 2011, took to the witness box to face examination over his knowledge of Crown's dealings with junket operators and high rollers with links to organised crime gangs and the group's troubles in China that led to those now famous 2016 arrests of Crown staff.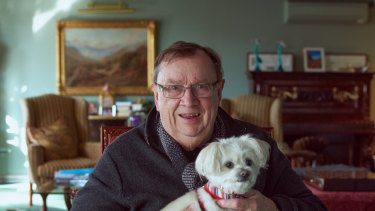 The Independent Liquor and Gaming Authority inquiry was triggered by a series of reports by The Sydney Morning Herald, The Age and 60 Minutes last year about Crown's junket partners, its failure to stop money laundering at its Melbourne and Perth casinos, and how it put its staff in danger of arrest in China.
Mr Mitchell was taken to reports on the criminal activities of one high roller Crown dealt with, Qiyun Zhou, and shown photos of Crown executive Barry Felstead with his arm around Mr Qiyun. He was also taken to emails that showed Crown staff in China had been threatened with violence if they stopped advancing credit to Mr Qiyun.
Mr Mitchell said these concerns were never reported to the board.
"It should have," the famed adman said.
But Mr Mitchell was also adamant that Crown staff should have never engaged with such dubious figures.
"What we're talking about should not have happened.
Mr Mitchell said as a member of the board he said he was not specifically aware of the details of junket operators and up until recently only had a vague understanding of what exactly they did.
Asked by counsel assisting the inquiry Scott Aspinall:"Are you aware now what a junket is?"
Mr Mitchell responded: "I think for some time I heard the word, and I hope that I never hear it again."
He also told the inquiry that the board of Crown did not review the bank accounts of two now notorious shell companies set up by the casino operator to facilitate high rollers looking to gamble in Australia without raising red flags with Chinese authorities cracking down on capital being taken out of the country .
"I had assumed the executives would," Mr Mitchell said.
Mr Mitchell was the first witness to follow James Packer's evidence to the inquiry about his influence over the group and its strategies.
Mr Packer delivered bombshell after bombshell during that evidence, including admitting he sent a threatening email to a private equity executive looking to privatise Crown. Mr Packer also revealed he accepted the inquiry might cap his stake in Crown, which currently sits at 36 per cent.
Mr Packer also revealed was the driving force behind the company's strategy to partner with junket operators and was aware of "rumours" about organised crime using such operators to launder money.
The inquiry continues.
More to come.
Source: Thanks smh.com