Newcrest goes for growth as new 'gold rush' sends prices higher
Newcrest, Australia's largest gold miner, has signed off on key growth projects and plans to list on the Toronto stock exchange as early as next week amid forecasts that the price of the yellow metal could trade higher for several years to come.
Chief executive Sandeep Biswas said the company's board had approved $236 million of works to ramp up output at existing operations, including the second stage of an expansion project at its flagship Cadia mine near Orange in New South Wales and improvements at Papua New Guinea's Lihir mine.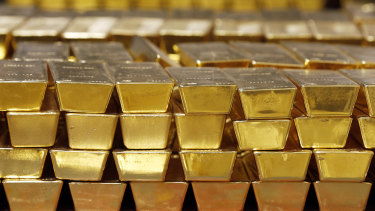 "It is an exciting time at Newcrest as we advance our growth pipeline with both of these projects adding value to our existing large-scale, long-life operations," Mr Biswas said.
The expansion of Cadia, the country's most lucrative gold mine, is hoped to increase plant capacity from 33 million tonnes to 35 million tonnes a year, and boost gold and copper recoveries by 3.5 per cent and 2.7 per cent respectively over the life of the mine.
Newcrest's investments come as the price of gold has soared above $US1900 an ounce this year, as investors seek out safe havens to hedge against the volatility of the coronavirus pandemic. Global gold miners are projecting the trillions of dollars of stimulus being unleashed by world governments to revive battered economies will continue supporting prices for years, as gold is also considered an inflation hedge.
"Gold is something that can't be printed, and I think that physical store of value is really important," Mr Biswas said.
"The investor world has woken back up again to what gold does, particularly as a counter-cyclic investment."
As investor appetite for gold surges, Newcrest next week plans to list on the Toronto stock exchange, following its acquisition of Canada's Red Chris mine, investments in Ecuador and a wave of elevated interest from American fund managers.
North American investors already accounted for about 32 per cent of Newcrest's shares, Mr Biswas said.
"We are seeing increased interest from people who don't hold us currently, some people who can't hold us because of their investment mandates that only let them invest in North American exchanges, and also some people who don't want to invest outside of their time zones," he said.
"There's been a lot of interest in gold … and what this listing does is gives them the ability to invest in the stock and gives us more flexibility, more presence, more visibility."
Cadia and Lihir account for more than 80 per cent of Newcrest's earnings estimates in 2021, according to analysts. Gold production at both mine sites slumped in the fourth quarter, the company's accounts showed.
"We expect performance in the near term to be gold price-driven with added emphasis placed on performance at Lihir," RBC Capital Markets analysts said.
"Cadia's expansion Project … is required to partially offset the anticipated grade decline and sustain life-of-mine production."
Newcrest's Cadia expansion project is expected to generate jobs for 860 local workers, the miner said, while the Lihir project would add about 150 jobs at its peak.
Rising gold prices have spurred a new wave of investment in gold exploration across Australia and lifted gold export earnings. The federal government projects gold exports will reach a record of $31 billion in 2020-21.
Business Briefing
Start the day with major stories, exclusive coverage and expert opinion from our leading business journalists delivered to your inbox. Sign up for the Herald's here and The Age's here.
Source: Thanks smh.com