RBA warns banks over culture as staff contact customers over loan deferrals
The Reserve Bank of Australia has warned banks to monitor their culture as staff contact customers facing financial difficulty during the recession.
The RBA's annual financial stability review report, released on Friday, said financial institutions that fail to keep check of culture and governance can be penalised or face a tighter regulatory environment.
Banks began offering customers affected by the coronavirus pandemic loan deferrals in March and are now contacting affected customers to encourage them to restart repayments or restructuring loans. The RBA has warned the lenders to tread lightly.
"Appropriate culture will be especially important as banks face the challenging task of dealing with customers' loan repayment deferrals and responding more broadly to the economic contraction," the report said.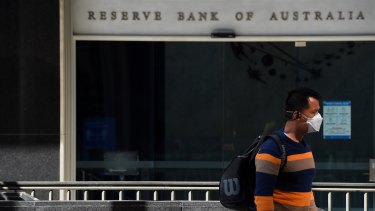 It also warned the Australian Prudential Regulation Authority would soon restart work on ensuring executive pay was tied to targets that encourage good practice and culture.
The RBA's comments came within a larger report into the impact of the coronravirus pandemic on the financial system, with significant risks and volatility buffered by the banks' high capital levels.
The Commonwealth Bank's senior economist Kristina Clifton said the report was a "sobering read".
"The next few months will be telling in how households manage the resumption of mortgage repayments. The risk is that some may need to sell their property to repay their debt. This may have flow-on effects to dwelling prices," she said.
More than $229 billion in loans had been deferred as of August and Australian Banking Association chief executive Anna Bligh said the banks had now embarked on the "largest ever customer reach out process" contacting more than 900,000 customers.
"Culture is the result of a multitude of decisions, practices and attitudes of every staff member, every day in every bank," she said. Australia's banks understand that these are now more important than ever and will define the industry for many years to come.
"It's a pivotal time for Australia's banks. The economic impacts of COVID-19 will be felt for a prolonged period and thousands of customers will be doing it tough."
Treasury proposed axing the responsible lending laws last month in a move that would reduce the checks and balances in approving lines of credit. Treasurer Josh Frydenberg described the law change as shifting the approach from "lender beware" to "borrower responsibility".
Consumer Action Law Centre chief executive Gerard Brody said the proposed changes would likely lead to a break down in banking culture and predatory behaviour, including cold calling and pressure sales tactics.
"It does worry me that on one hand the RBA is perhaps saying that culture and risk appetite needs to be kept in check, on the other hand the government seems to be giving the green light for more irresponsible lending," Mr Brody said.
Once the JobKeeper and JobSeeker payments come to an end, Mr Brody said many Australians would be exposed to financial difficulty, creating incentives to take on more loans.
"Most Australians talking to their bank expect the bank is acting in their interest and will offer products that are suitable for them.
The Australian Bureau of Statistics released figures on Friday that show $21.3 billion in home loans were approved in August, an increase of 12.6 per cent from the month prior adding to a 19.3 per cent increase over the course of the year.
Source: Thanks smh.com