Coronavirus challenges the mental health of workers
Neredah Blake changed the way she ran her family catering company in Melbourne during the coronavirus pandemic.
It was a challenging time to reshape and build the business.
"With all events in 2020 cancelled or postponed, we decided to embark on a ready-made meal business," she said.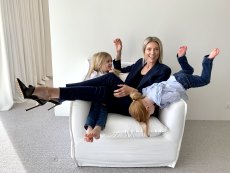 "I was emotional and worried about the long-term impact COVID-19 was going to have.
"I was also dealing with the challenges of home-schooling. Every day we just had to keep pushing, even when utterly exhausted."
But the effort was rewarded.
"We now provide a service to both existing and new clients who will continue to order delivered meals post lockdown," she said.
SuperFriend, a national mental health organisation that partners with the superannuation and insurance industries, surveyed 10,338 Australian workers about their mental health, particularly in relation to the COVID-19 pandemic.
It found the mental health of three in five workers had suffered this year, lowering productivity.
The annual survey also noted an almost 9 per cent rise in the number of people who had experienced a mental health condition this year compared with last year.
More than a quarter of workers (27.8 per cent) said they had experienced a mental health condition for the first time during the pandemic
Mental health concerns were also found to be the most common reason for lower productivity this year, affecting three in five workers.
More than half the workers surveyed said no action was being taken in their workplace to address mental health.
SuperFriend chief executive Margo Lydon said the research found casual workers had reported a fall in respect and inclusion over three consecutive years.
"Over the last few years of conducting this research, we have noticed a persistent decline in outcomes for casual workers and industries with higher casualised workforces," Ms Lydon said.
"Casual workers have very little job security and fewer opportunities to access workplace mental health programs and resources compared with their securely employed peers.
"Accommodation, food services, and arts and recreation workers have been particularly hard hit because of this."
Source: Thanks smh.com