BHP, First Nations leaders strike 'eleventh hour' heritage deal before AGM
Resources giant BHP has defused a shareholder push to halt all mining on sacred Indigenous sites after striking a late deal with First Nations groups ahead of this week's annual general meeting.
The First Nations Heritage Protection Alliance, a group of 20 Aboriginal and Torres Strait Island land councils formed after Rio Tinto's destruction of a 46,000-year-old cultural heritage site this year, said it has asked for a resolution to be withdrawn from BHP's investor meeting on Wednesday that was seeking a pause on all projects threatening to disturb sacred sites across its mining operations.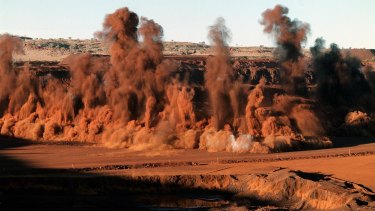 BHP and the alliance said they had jointly agreed on a path forward to "enhance the influence and voice of traditional owners in relation to heritage protection".
This includes setting principles to improve processes ensuring "free, prior and informed" consent when striking agreements, support for state and national heritage legislation reforms, and better storage of cultural artefacts.
"We have been heartened by the constructive approach BHP have adopted to our discussions with them," First Nations Heritage Protection Alliance co-chair Kado Muir said. "Together we are determined to drive industry reform and legislative change that improves both agreement making and the protection of Aboriginal cultural heritage which is of immense value to all Australians."
The First Nations representatives had launched the resolution in August in collaboration with the Australasian Centre for Corporate Responsibility (ACCR), a shareholder activist group, which welcomed news of the deal on Tuesday.
"At the eleventh hour, the BHP chairman finally came to the table with the alliance and directly involved himself in negotiations with Aboriginal leadership," ACCR director Brynn O'Brien said. "This move was most welcome."
The resolution had been seeking a moratorium on mining activities that would "disturb, destroy or desecrate" culturally significant Indigenous sites until reviews of state heritage legislation have been completed. If implemented by the company, it could have had a significant impact on growth plans in the Pilbara.
BHP's board had been urging shareholders to vote against the motion, saying it would have had the unintended consequences of forcing a unilateral action on traditional owners by overriding existing agreements without their consultation.
In a letter to investors last week, BHP said the ACCR had made "false and misleading" statements in its engagements with shareholders about the level of support for the resolution among Pilbara traditional owners. BHP's two main native-title stakeholders, the Banjima Aboriginal Corporation and the Karlka Nyiyaparli Aboriginal Corporation, had written to BHP to say the ACCR's claims were inaccurate.
The First Nations Heritage Protection Alliance – whose members include every major Aboriginal land council and peak native-title body in Australia – said the ACCR had focused investors' and BHP's attention on cultural heritage matters "in a way that will be of great benefit to Aboriginal people."
Rio Tinto's decision to blow up the culturally significant Juukan Gorge rock shelters in May, without the consent of the land's traditional owners, has put the whole mining industry on notice. BHP has halted plans to destroy up to 40 significant Aboriginal sites at its $4.6 billion South Flank iron ore project and vowed to re-consult with traditional owners, the Banjima people, while Andrew "Twiggy" Forrest's Fortescue Metals Group is also reviewing plans to damage sites of significance.
Source: Thanks smh.com