Billionaire investor predicts 'day of reckoning' over government spending
Magellan chief investment officer Hamish Douglass says politicians might as well believe in the tooth fairy if they think high levels of government debt is sustainable, and predicted a day of reckoning for future generations saddled with paying it off.
Mr Douglass told investors tuned into the company's markets update on Tuesday that governments acting on short-term interests were misguided as heavy debt had long-term ramifications.
"If you believe debt is free and debt has no consequences, you might as well believe in the tooth fairy," Mr Douglass said.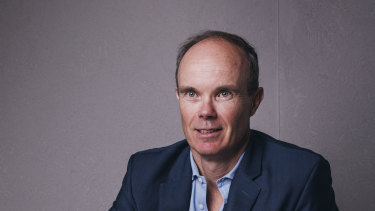 "What worries me, the problem is the longer this goes on, more and more politicians might start believing in the tooth fairy. And because they have relatively short election cycles, what are the restraints on them to just spend the money today and believe it's just a free lunch?"
The billionaire investor said he hoped there were "rational voices" at the table who would encourage prudent public spending.
"Ultimately there will be a day of reckoning," he said. "To think politicians can spend money with no consequences in the future, I think future generations are going to have a lot to bear.
"I'm not being critical of what's happening at the moment, I just hope this trend doesn't get too much momentum."
The federal government handed down a $85.3 billion budget deficit last week in response to the economic carnage brought on the pandemic. The business-focused budget dwarfed the previous record deficit of $54.5 billion delivered by the Rudd government in the aftermath of the global financial crisis.
Mr Douglass said historically low interest rates and inflation made it enticing for governments to spend big, although cautioned these conditions would not last forever.
"Just because interest rates are super low today, you cannot assume they will always be low," he said.
"Am I worried about inflation in the next five years? No. But if it comes back, it will be very bad for markets. Central banks will have to respond with higher interest rates and higher interest rates are the enemy of markets."
Magellan's funds under management took a hit in March, falling by more than $7 billion as investors scrambled to price-in the impact of the pandemic. Those losses have now been recouped, with current funds under management at more than $102 billion.
Mr Douglass predicted the next period of volatility will be brought by the impact of the US election. "Trump is making a big issue about voting, polling, where people are going to mail in their votes, pre-poll votes," he said. "Markets just don't like uncertainty. We should prepare ourselves for where we could get to a situation where we don't have a result."
Market Recap
A concise wrap of the day on the markets, breaking business news and expert opinion delivered to your inbox each afternoon. Sign up for the Herald's here and The Age's here.
Source: Thanks smh.com