'Oh Mr Demetriou, why did you do it?': ex-AFL boss caned at Crown probe
Former AFL boss Andrew Demetriou has been eviscerated at the NSW government's Crown Resorts inquiry after he compromised his evidence by referring to secret notes during his testimony.
Commissioner Patricia Bergin had her head in her hands on Tuesday morning when she asked: "Oh Mr Demetriou, why did you do it?"
The high-profile Melbourne identity, who has been a Crown director since 2015 and is chairman of Crown Melbourne, was busted reading from notes while giving evidence via video link on Monday to the probity inquiry, which has the same powers as a royal commission.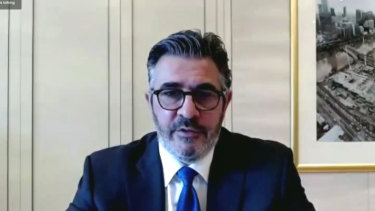 On Tuesday his notes were tendered as evidence and used in a cross examination of his earlier testimony. The notes included a definition of "culture" which Mr Demetriou said he got "off the net" but insisted he did not read from while being asked about cultural failings at the casino giant, despite reproducing much of it word for word.
"You made the notes because… you didn't have an easy familiarity with what 'culture' meant in a corporate governance setting, didn't you?," Counsel assisting the inquiry Scott Aspinall asked.
"What you were trying to do was give the commissioner the impression that you did have an easy familiarity by reading from the notes that you'd made."
Mr Demetriou responded: "I did not read from the notes on the answer that related to culture."
Mr Aspinall put to Mr Demetriou that he wasn't "acting with honesty or integrity" on Monday.
"Respectfully, I disagree with you," Mr Demetriou said.
The inquiry then replayed the video recording of Mr Demetriou's testimony from Monday, which showed him appearing to look downwards while delivering the near verbatim reproduction of his notes.
"You saw yourself look down there, did you not Mr Demetriou?," Commissioner Bergin asked.
"I did see myself look down, Madame Commissioner, but I suspect I would have looked down for a lot of the day."
Commissioner Bergin responded that she was "not so sure about that".
The NSW inquiry is considering whether Crown should keep the licence to its new Sydney casino and was launched in response to revelations by The Age, The Sydney Morning Herald and 60 Minutes about Crown's dealings with "junket" tours operators linked to criminal syndicates and failures to prevent money laundering at its Melbourne and Sydney casinos.
The inquiry on Tuesday then re-examined Mr Demetriou's evidence about Crown bank accounts that were repeatedly used for suspected money laundering, in which he said the company had identified about 100 suspicious transactions.
However a company report Mr Demetriou had with him in fact said that there were around 100 "instances" of suspected money laundering, which had included more than 200 individual transactions.
"So if Mr Aspinall had not identified that you were reading from documents… I would have been left in the belief the evidence that you had given me was truthful, wouldn't I?" Commissioner Bergin asked.
"Yes Madame Commissioner, I apologise for that mistake," Mr Demetriou responded.
Commissioner Bergin said that if Mr Demetriou had "just given the documents to your silk and to the inquiry, this embarrassing line of questioning would not have happened."
The inquiry's public hearing will continue on Tuesday afternoon.
Business Briefing
Start the day with major stories, exclusive coverage and expert opinion from our leading business journalists delivered to your inbox. Sign up for the Herald's here and The Age's here.
Source: Thanks smh.com