Telstra chair calls for simpler pay model after execs lose $750k in bonuses
Telstra chairman John Mullen has called for a simpler model for executive pay after revealing several key leaders including chief executive Andy Penn missed out on $758,000 worth of incentives last financial year because of poor sales practices.
Mr Mullen told shareholders at a virtual annual general meeting on Tuesday that executives were on track to meet targets before the coronavirus pandemic. However, due to factors related to the crisis, Mr Penn and other executives missed out on underlying earnings and net promoter score (NPS) targets affected by a fall in customer experience.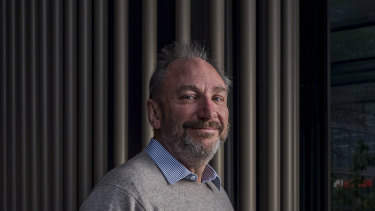 "I do wonder if it is time to consider a simpler model going forward," Mr Mullen said. "I am old enough to remember when I just got paid a salary and if I did a bad job I was fired.
"I sometimes wonder whether we should not go back to those days and just give senior executives a fixed salary, the majority of which would be paid in shares so that if the company's shares perform well then the executive would earn more and if they perform badly the executive would earn less.
"This is a discussion for another day but it would greatly simplify the whole executive remuneration debate."
Mr Mullen said key executives had missed out on their incentive outcomes for underlying earnings because of reduced revenues, decisions to defer redundancies and the introduction of packages to assist customers who were struggling because of the pandemic. Challenges with international call centres related to social distancing restrictions also reduced customer experience, which led to missed NPS targets.
Mr Penn and two other key executives also had payments reduced by $758,000 – 10 per cent – because of bad sales practices that occurred in several stores primarily in the Northern Territory. The Australian Competition and Consumer Commission started an investigation last year into the way Telstra's products were sold to vulnerable customers.
"Our view in these matters is that the responsibility ultimately stops with the company's leadership and the board's decision on remuneration outcomes for Andy [Penn] and two of his executive team reflected that while there was no specific adverse conduct by them personally, they were ultimately accountable," he said.
Mr Mullen's commentary on remuneration was very different to his presentation last year and in 2018. Last year Mr Mullen slammed critics of Mr Penn's $5 million-a-year pay packet and argued kids playing popular video game Fortnite, social media influencers and professional athletes are paid similar sums of money. In 2018, Telstra shareholders revolted with 62 per cent voting against the company's remuneration report.
"It was very pleasing this year to see broad support from proxy advisers and others for our approach to executive remuneration which, as I have said many times, is a responsibility the Telstra board takes incredibly seriously," Mr Mullen said.
Telstra shares opened up 2.5 per cent to $2.85. As of yesterday, Telstra had lost 20 per cent of its value in 2020.
Business Briefing
Start the day with major stories, exclusive coverage and expert opinion from our leading business journalists delivered to your inbox. Sign up for the Herald's here and The Age's here.
Source: Thanks smh.com