Afterpay escapes further AUSTRAC action but regulatory clouds linger
Afterpay has received an all-clear from the Australian financial crimes watchdog AUSTRAC over its breaches of anti-money laundering laws, but the buy now, pay later (BNPL) heavyweight isn't entirely out of the woods when it comes to regulatory scrutiny.
The $27 billion listed fintech said on Wednesday that AUSTRAC would take no further action against it after completing an audit into the company's compliance with anti-money laundering and counter-terrorism (AML/CTF) regulation. The news helped Afterpay shares hit a new high of $98.68 before closing the session at $96.09.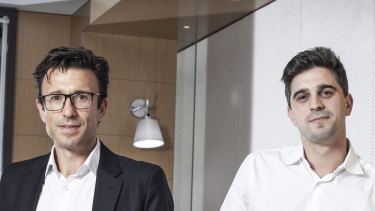 AUSTRAC shocked the market last year when it demanded an external audit of Afterpay's compliance with AML/CTF laws, but noted on Wednesday the company's remediation work since last year to "ensure compliance".
"After considering the report and the response by Afterpay, AUSTRAC has decided not to undertake further regulatory action," the regulator said.
However, payments industry veteran McLean Roche's Grant Halverson said Afterpay's growing global presence means it will need to be vigilant about its platform being exploited for nefarious purposes.
"The anti-money laundering issues don't go away," he said.
"Now that Afterpay claims to be in eight countries, they are open to cross border money laundering and fraud – typically by a fraud syndicate that will set up dummy merchants and false consumer accounts."
Mr Halverson added that Afterpay is facing other regulatory challenges, including the Australian Securities and Investments Commission's review of whether BNPL providers act as lenders. A decision on that is due shortly.
Meanwhile, the Reserve Bank is also reviewing rules that prevent retailers from surcharging customers who use buy now, pay later schemes.
"All buy now pay later operators have terms and conditions which don't allow retailers to surcharge," said Mr Halverson.
"If this is ruled outside the regulations then retailers will be allowed to surcharge the 4-6 per cent supercharge – this would undoubtedly impact BNPL sales as the $100 sale becomes $104 to $106."
Afterpay announced the AUSTRAC order last year, just one day after the company's three co-founders, David Hancock, Anthony Eisen and Nick Molnar, sold more than $100 million of shares, and the company raised $300 million in fresh equity. There is no suggestion that the co-founders' sell-down was prompted by the AUSTRAC notice.
AUSTRAC has gained a reputation for strong action in recent years having yielded fines totalling more than $2 billion against the Commonwealth Bank and Westpac. It's decision to give Afterpay a clean bill of health should give the fintech a boost in the market, according to Goldman Sachs analyst Ashwini Chandra.
"In our view, this outcome for Afterpay effectively removes this risk from the business in the near term, and significantly reduces the likelihood of any material change to its business model (eg. onboarding processes," he said.
Market Recap
A concise wrap of the day on the markets, breaking business news and expert opinion delivered to your inbox each afternoon. Sign up for the Herald's here and The Age's here.
Source: Thanks smh.com