Lynas calls on governments to cough up cash to keep critical minerals projects in Australia
Rare earths producer Lynas has called on state and federal governments to provide more support in the form of cheaper energy or "cold hard cash" to help future Australian operations compete with other jurisdictions with lower staffing and construction costs.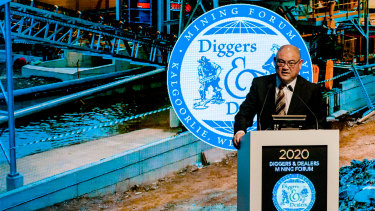 Lynas is progressing plans for a $500 million cracking and leaching plant in Kalgoorlie near its Mt Weld mine in WA's Goldfields region, in an effort to circumvent political controversies resulting from the low-level radioactive waste generated from its Malaysian plant.
Rare earths are mined in small quantities but are essential to most new technologies including mobile phones and military hardware and, as a result, have become a key focus for the US as it looks to establish a supply chain outside of China.
The Kalgoorlie plant has been granted special project status by both the federal and WA governments.
Lynas vice president of upstream Kam Leung told the Diggers and Dealers conference on Wednesday that while he welcomed the political support, he would like to see more financial support for the project to be more cost-competitive.
"The cost of building a plant in Australia is much higher. Our cost of labour is two, three or four times higher than it is elsewhere," he said.
"We're going to pay 10 times as much for water – and that's going to relatively low-cost water from the City of Kalgoorlie-Boulder – compared with what we would get in Malaysia.
"In other countries, the governments actually come invest, they subsidise some of these critical projects.
"We are going to be looking for things that put us on a level playing field, we're not asking for anything more than that.
"Cold hard cash; that to me is co-investment."
Mr Leung said cheaper power would also help and suggested the government build a renewable power plant nearby.
"If they can give us cheap power, that would be very, very good," he said.
Mr Leung said the City of Kalgoorlie-Boulder had come to the party by offering to pay for water and other services to the project's gate, as well as offering to upgrade roads.
The cracking and leaching plant was expected to create 500 jobs during construction and 100 ongoing jobs, and Mr Leung said there had already been interest in the project from locals.
Mines and Petroleum Minister Bill Johnston, who also attended the conference on Wednesday, said he was keen to work with Lynas to help it access federal government incentives, but did not provide information on whether the state would offer any.
"We are always afraid that the Commonwealth government incentives are concentrated on the east coast and they forget the needs of the Western Australian resources industry," he said.
"We are very keen to support Lynas and other projects to get Commonwealth government support."
Mr Johnston said the government was also working hard to keep electricity prices down.
Source: Thanks smh.com