Boral chair to retire, Seven pulls board nominee after investor backlash
Building materials giant Boral has buckled under pressure from activist shareholders, with its chairman Kathryn Fagg to retire from the board next year and Seven Group withdrawing one nomination for the board.
In an announcement on Thursday afternoon, the Boral board said had engaged with shareholders and "listened to concerns" that had been raised about director accountability for the past performance of the business.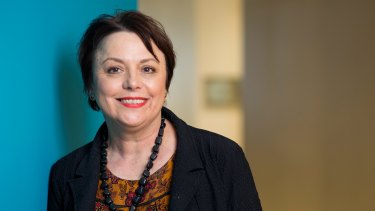 Boral said some shareholders were concerned about the level of representation of major shareholder Seven Group on its board, after the recent appointment of Seven chief executive Ryan Stokes and chief financial officer Richard Richards to its board. Seven Group subsequently confirmed it would withdraw Mr Richards' nomination for the board.
According to the most recent filing Seven Group has a 19.984 per cent stake in Boral, but two large activist shareholders – Perpetual and Tanarra Capital – had questioned the appointments, claiming they gave Seven excessive influence on Boral.
"The board continues to believe that proportionate representation on the board for significant shareholders (subject always to calibre and experience) is appropriate and appreciates the willingness of Seven Group to reduce its representation on the board at this time, recognising that the position can be reconsidered once further board renewal is undertaken," Boral said.
In a recent letter to Ms Fagg the two activist shareholders did not call for her departure, and commended some of the recent decisions of Boral's board including the appointment of new chief executive Zlatko Todorcevski. But three proxy adviser firms had all recommended a vote against Ms Fagg's re-election at Boral's annual shareholder meeting on October 27.
The Boral announcement is a substantial backflip, coming little more than 24 hours after the ASX-listed building materials company issued a comprehensive defence of its decision to appoint the two Seven Group executives to its board.
Seven Group, whose executive chairman is billionaire businessman Kerry Stokes, has been steadily buying Boral shares throughout 2020 to establish its vast holding. The company sees a strong future for Boral as Australia builds major infrastructure projects, and as the housing industry and wider economy recover from the COVID recession.
Ryan Stokes recently told The Age and the Herald that Boral had "uniquely positioned Australian assets", and that Seven had been watching Boral for about 6-12 months before it began buying Boral shares early this year.
Boral has experienced a challenging past two years, issuing multiple earnings downgrades and slumping to a $1.14 billion statutory loss last financial year. It also faces two shareholder class actions over accounting irregularities uncovered in its US windows business last year.
Source: Thanks smh.com