Virgin's turbulent new boss Hrdlicka no stranger to turmoil
When it came to the final talks for the sale of Virgin Australia to private equity group Bain Capital in June, the influential airline unions would not even allow Bain's high profile adviser, Jayne Hrdlicka, into the negotiating room.
Hrdlicka, who will take over as Virgin's chief executive next month, may not be well known to the public but the strong reaction gives some indication of the formidable reputation she has forged in the corporate arena.
A lot of it goes back to her role, alongside Qantas boss Alan Joyce, in setting up Qantas's budget carrier Jetstar, which she later ran. It was a period of unprecedented turmoil for the airline which culminated in the 2011 grounding of its fleet and lockout of its workforce by Joyce.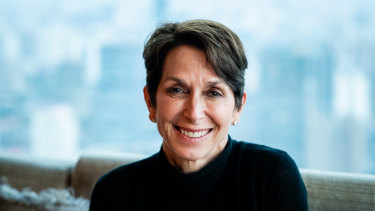 There is no forgetting the role Hrdlicka played in the brutal campaign, but the Kansas-bred daughter of a Czechoslovakian Cold War refugee is not one to excuse herself for seizing what she sees as the right opportunity. "There is no other airline in the world which was able to pull off what Qantas was able to do, to have a low-cost business alongside a full-service business," she said in 2012. "Great strategy – brilliantly executed."
The fear is that her appointment will see Virgin ripped apart and remodelled as an airline more akin to Jetstar than the full-service rival to Qantas that collapsed into administration this year.
It is not just in the aviation sector where Hrdlicka has ruffled feathers.
With Joyce showing no signs of leaving the top job at Qantas in 2018, Hrdlicka tried a different path to the top. She was chosen as the new chief executive of dairy group A2 Milk, which was soaring on the back of China's insatiable demand for Australian and New Zealand dairy.
After just 18 months in the job, Hrdlicka stepped down in December last year citing family reasons amid soaring consultant costs, multimillion-dollar sales of her A2 shares, and signs that the CEO was at odds with her board over strategy and her workforce.
When David Bortolussi was named as her permanent replacement this August, the board prominently displayed the fact that the new CEO would not be able to sell any shares until he had amassed stock equivalent to one year's salary.
Hrdlicka sold $4 million worth of stock just months after she started.
"We learnt from that experience – my mistake – I didn't dream we would have a situation where someone would sell their shares immediately," a2 Milk chairman David Hearn said at the time of the announcement. "We are now wiser."
Hrdlicka will continue to juggle her role as the chair of Melbourne-based Tennis Australia with the new job in Brisbane. She was reappointed to the Tennis Australia role late last year for a term that ends in 2022.
Market Recap
A concise wrap of the day on the markets, breaking business news and expert opinion delivered to your inbox each afternoon. Sign up for the Herald's here and The Age's here.
Source: Thanks smh.com