'I don't get it': Skimpy debate fires up after mining boss attacks sexism
The mining industry's most powerful female executive, Fortescue chief Elizabeth Gaines, has criticised sexism in the resources sector and questioned the presence of scantily dressed 'skimpy' barmaids at the annual Diggers and Dealers gathering in Kalgoorlie.
'Skimpies' have featured at bars in Kalgoorlie for decades. They are women, some local but most flown in from around the country, to serve drinks to thirsty patrons wearing nothing but a few shoestrings stitched together as underwear – sometimes even less than that.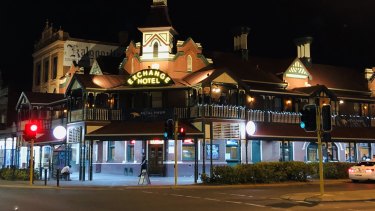 Ms Gaines criticised the lack of female attendees and presenters at this year's event. Just three out of the 56 speakers were women.
In a later press conference, she said she didn't understand the allure of skimpies. "I don't get it; I don't get why somebody wants to go and do that. I just don't understand it. That's a female perspective," she said. "I don't know of many women who want to walk into that environment.
"You've got to have venues that are far more appropriate … and actually reflective of society as a whole. Not objectification of one part of society, and the other part of society looking on.
"But it is particular to Kalgoorlie and some people like it so, who knows? Maybe it's a big tourism thing," she said.
Natalie Baker, who runs Perth's Best Girls and flew in skimpies to staff the pubs during the event, dismissed the media's obsession with the skimpy debate, which she said flares up every year around Diggers and Dealers.
She questioned how Ms Gaines could make those comments if she didn't actually visit one of the pubs and see what the tradition was all about.
"These are women who want to go and they are women who want to work," she said.
"The wealthy class do different activities to the working class … going to the opera with my grandad is not my idea of fun. We all have our own idea of fun."
Ms Baker said what hotel owners chose to do during diggers was entirely separate to the event and if companies don't want their staff to see skimpies during their time there they could "ban them from the pub".
"It's not like we are pushing our way into the conference, they are coming into our pub," she said.
"Just because the times are politically correct it doesn't mean the people are, especially in Kalgoorlie and in mining."
Ms Gaines said stakeholders were strongly demanding change from Australian companies and she called on a renewed focus on diversity.
Diggers and Dealers chairman Jim Walker would not be drawn into the skimpy debate but in his closing address to the conference he said of the 1950 delegates nearly 20 per cent were women. According to the Australian Bureau of Statistics, women account for just 15 per cent of the mining workforce nationally.
'The wealthy class do different activities to the working class … going to the opera with my grandad is not my idea of fun. We all have our own idea of fun.'

Natalie Baker, Perth's Best Girls
Chamber of Minerals and Energy WA chief executive Paul Everingham said the industry could always do better and his organisation was focusing on the grassroots level.
He said the event had improved in recent years.
"From my perspective, the conference is very much really lifted its standard in the past couple of years with the public's expectation and company expectations around what a business conference has to be and what it looks like," he said.
Market Recap
A concise wrap of the day on the markets, breaking business news and expert opinion delivered to your inbox each afternoon. Sign up for the Herald's here and The Age's here.
Source: Thanks smh.com