TPG Telecom targets rivals with new low-cost mobile brand
TPG Telecom is launching a no-frills, digital-only mobile brand in its first major attempt to steal customers from rival telcos since the $16 billion merger of TPG Corporation and Vodafone Hutchison Australia was finalised in July.
The new brand, Felix, will go head-to-head with Telstra's low-cost challenger brand Belong Mobile and TPG boss Iñaki Berroeta said it will operate in isolation of TPG and Vodafone's existing products but will use the telco's existing mobile infrastructure.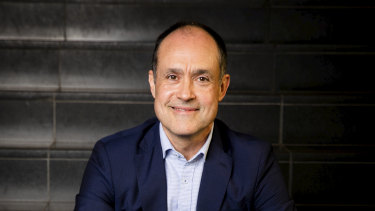 "What we said is rather than spending time and effort to convert one of our (existing) brands into this, let's just create a new brand," he said. "Our intention is to make it attractive on its own and to run it quite independent from the way that we run the rest of the brands."
Mr Berroeta said the launch of Felix shows that the Australian Competition and Consumer Commission's fears of the merger between TPG and Vodafone hurting competition in the market were unfounded.
"We never understood really what was the case of the ACCC…around competition," he said."Our activity in the market has gone up significantly since we merged in July so the exact opposite of what the ACCC was trying to predict."
He also added that Felix hadn't been conceived to counter the presence of Telstra's Belong in the budget-conscious end of the mobile market. Telstra launched Belong Mobile in 2017, a move that was considered an attempt to fend off a play by TPG in the low-cost mobile space after it spent $1.26 billion on mobile spectrum.
"The reason why we came up with Felix was not as a reaction to something that is going on in the market. Felix has been created more as an intention that we have as a business to simplify our relationship with the customer and also to become more environmentally friendly."
Regardless of motive, the move will be closely watched by rivals Telstra and Optus, which have been eager to see what kind of prices the newly-formed TPG Telecom will offer customers.
The prices of Felix's offers will not be made public for another month.
Mr Berroeta added the brand would help TPG work out whether it is possible to apply a zero carbon footprint to the broader business.
"We are using it not just as a commercial brand, but also as how to learn more around zero carbon footprint, but also 100 per cent renewable electricity, and how we can apply that to the full company which is something that as a business we're working on," he said.
Business Briefing
Start the day with major stories, exclusive coverage and expert opinion from our leading business journalists delivered to your inbox. Sign up for the Herald's here and The Age's here.
Source: Thanks smh.com