Afterpay founders wealth tops $4bn on share price surge
Australia may still be a land of iron ore billionaires but our tech entrepreneurs are closing in fast, and the founders of buy now pay later service Afterpay are among those leading the charge.
The combined wealth of Afterpay chief executive Anthony Eisen and founder Nick Molnar topped $4 billion for the first time on Tuesday after the company announced a strategic partnership with Westpac.
Mr Eisen and Mr Molnar, who listed the buy now pay later provider on the ASX in 2016 at a share price of $1, watched the stock cross the $100 mark for the first time. The share price rise came after the company announced plans to offer banking services to its 3.2 million Australian customers.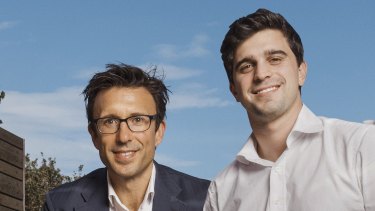 "This is clearly just the beginning as we explore this opportunity globally," Mr Eisen said in a prepared statement. Afterpay shares closed 4.5 per cent higher at $101.94, a fresh record high.
Afterpay's share price has risen 1,000 per cent since March this year when the markets were pricing in the pandemic-induced recession as an existential threat for the service.
Mr Molnar and Mr Eisen's stakes in the business are each worth $1.9 billion based on Tuesday's closing share price. The duo also sold shares worth a combined $250 million in July.
With a market valuation approaching $29 billion – up from $125 million in 2016 – Afterpay is gaining ground on some of the biggest and best known names in corporate Australia. It has already surpassed some others.
Telecom giant Telstra is currently worth $33 billion, supermarket giant Coles' market value stands at $24 billion, Qantas is valued at $8.2 billion and Nine Entertainment Co (publisher of this masthead) is worth $3.7 billion.
The move into banking appears to be confirmation of Afterpay's ambitions outside of the buy now pay later sector.
This was hinted at earlier this year when Chinese internet giant and WeChat owner Tencent acquired a significant shareholding in Afterpay.
The WeChat app allows its billion-plus users to order food, make payments, play video games and stream TV shows.
"I think there's a combination of, how do we learn from people who have scaled globally and understand deeply the payments infrastructure at a global level, and then just also what potential collaboration opportunities [are there] to give the most value to our retail partners," said Mr Molnar after the Tencent investment became public in May.
Source: Thanks smh.com