Coonan admits Crown facilitated money laundering at casino
Crown Resorts chairman Helen Coonan has conceded the casino giant facilitated money laundering at its Melbourne casino, but blamed it on "ineptitude" rather than the company deliberately "turning a blind eye" to criminals banking their dirty cash with the company.
The comments made in evidence to the NSW Independent Liquor and Gaming Authority's probity inquiry into Crown on Tuesday come a day after the financial crimes watchdog, AUSTRAC, said it was formally investigating Crown for potential breaches of anti-money laundering laws.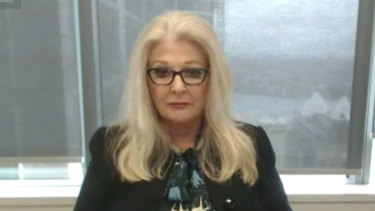 During her second day of evidence at the inquiry, Ms Coonan was asked about Crown's relationship with its largest high-roller "junket" tour partner, Suncity, which is run by the alleged former Macau triad member Alvin Chau.
Suncity operated a private gaming room at Crown Melbourne up until late last year when the Macau-based junket shut it down following reports in The Age, Sydney Morning Herald and 60 Minutes about Mr Chau's criminal links. That series of reports triggered the ILGA inquiry, which will recommend whether Crown should keep the licence for its new Sydney casino at Barangaroo.
Counsel assisting Naomi Sharp, SC, challenged the former Howard government minister on why Crown did not shut Suncity's private room even after multiple red flags were raised that indicated money laundering was occurring within the gaming parlour.
Those red flags included 2017 footage – leaked by Tasmanian independent MP Andrew Wilkie – of tens of thousands of dollars in cash being taken from a blue cooler bag and exchanged for chips; AUSTRAC querying Crown in 2017 about why it was working with Mr Chau given his apparent criminal background; and a Crown audit discovering $5.6 million in cash stored in a cupboard in the private room in 2018, in breach of a $100,000 cash limit.
"Isn't this a quintessential example of Crown Resorts turning a blind eye to the prospects of money laundering occurring at its casino?," Ms Sharp asked.
"It may have been ineptitude or a lack of attention," Ms Coonan said. "I don't think it was deliberately turning a blind eye. I do think that's a different adjectival conclusion."
Commissioner Patricia Bergin asked whether she would agree that it was "facilitating" money laundering, which Ms Coonan initially said was "difficult to agree with".
Commissioner Bergin said that even assuming the failure was the result of "ineptitude" and "lack of attention", Crown's failure to stop the suspicious activity occurring could lead to a situation where people knew they could launder money at Crown.
"The community loses because you've got money laundering in your casino; and Crown loses because it's seen as an inept company lacking in attention," she said.
"And… the bystander could reasonably conclude that this conglomerate of ineptitude, lack of attention and failing to intervene facilitated money laundering. Would you not agree with that?"
"Yes," Mr Coonan said. "It was the turning the blind eye that I didn't agree with, which I think is a different degree of understanding."
Ms Coonan said she did not know exactly what AUSTRAC was probing at the company. She said that Crown had dealt with junket partners in the past who were not of "good repute", including under her watch as a Crown director since 2010.
The closure of Australia's borders due to COVID-19 has brought Crown's international VIP business to a standstill and the company has said it will not resume working with junket operators until June at the earliest, while it reviews how to deal with the controversial partnerships. Ms Coonan said Crown would either have higher due diligence standards for junkets or not work with them at all.
Ms Coonan will continue to give evidence on Tuesday afternoon.
Business Briefing
Start the day with major stories, exclusive coverage and expert opinion from our leading business journalists delivered to your inbox. Sign up for the Herald's here and The Age's here.
Source: Thanks smh.com