Crown tears up Packer deals on eve of annual shareholder meeting
Crown Resorts has torn up two agreements with major shareholder James Packer that have been criticised in the NSW government inquiry probing the casino giant the night before the crisis-struck casino giant faces investors at its annual general meeting.
The ASX-listed group on Wednesday night said that it had terminated a "services agreement" with Mr Packer's private company, Consolidated Press Holdings (CPH), under which Crown paid CPH for consultation services from CPH executives.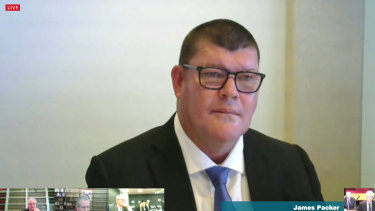 And it had also ended a "controlling shareholder protocol", which since 2018 has allowed Crown executives to share confidential information directly with Mr Packer, who owns 36 per cent of Crown but has not had any official position with the company since he left its board in 2018.
Both agreements have been examined in recent weeks during at-times explosive hearings of the ongoing NSW Independent Liquor and Gaming Authority inquiry into Crown, which is considering whether it should keep the licence to its soon-to-open Sydney casino.
The inquiry raised the suggestion of insider trading relating to Crown sending confidential financial forecasts to Mr Packer and CPH executives under the agreements early last year, at a time when they were negotiating to sell a 19.9 per cent stake in Crown for $1.7 billion.
The CPH executives shared the confidential company profit forecasts with the buyer of the shares, Hong Kong group Melco Resorts, the inquiry found.
Mr Packer's personal shareholder protocol – which was only made public through the inquiry – also allowed him to wield considerable influence over the running of Crown from outside the company, the inquiry has heard, by sending regular emails giving instructions to senior executives.
While the "services agreement" also created potential conflicts for two CPH executives who are also Crown directors, Michael Johnston and Guy Jalland. Mr Johnston, for instance, provided paid consultation to Crown to carry out work including conducting probity checks on the casino's controversial "junket" partners, many which have been shown to be linked to organised crime, and then reviewing that work in his role as a board member.
Crown paid $3.5 million to CPH under the services agreement in 2018/19 and $1.2 million last financial year, according to its annual reports.
Crown will hold its annual general meeting on Thursday, where it is expected to face tough questions about the range of probity and governance issues raised through the ILGA inquiry.
Earlier on Wednesday, the inquiry heard that it might recommend the corporate watchdog ASIC investigate Crown's former chairman Robert Rankin for a breach of directors duties over his failure to protect Crown's staff in China and not his decision not to tell his co-directors that Mr Packer had threatened a businessman over a soured takeover deal.
Source: Thanks smh.com