'Integrity' of financial system at stake as $1.3b Westpac fine upheld: Federal Court
Federal Court judge Jonathan Beach has said the integrity of Australia's financial system depends on upholding anti-money laundering laws as he approved Westpac's $1.3 billion record penalty for systemic failures in its financial crime compliance.
Justice Beach said the penalty, which is the biggest in Australian corporate history, was appropriate for Westpac's widespread breaches of the Anti-Money Laundering (AML) and Counter-Terrorism Financing Act, including its failure to report suspicious payments and conduct due diligence on its correspondent bank partners.
"Clearly the integrity of Australia's financial system depends upon Westpac and other major banks having first class, compliant, risk-based systems to address anti-money laundering and terrorism financing risks," he said on Wednesday.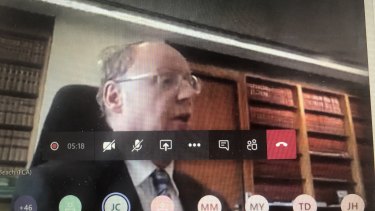 "Financial institutions are an important line of defence in protecting the community and financial system … even minor or inconsequential breaches of the act have very serious consequences."
Justice Beach said Westpac accounts for a very significant portion of the payments made through Australia's financial system and therefore a substantial fine was necessary.
Banks needed to ensure transparency of international payments to prevent financial crime, he said. "It's obvious that money laundering is all about obscuring the origin and destination of funds."
The financial crimes watchdog AUSTRAC launched legal action against Westpac in November after the bank was found to have breached AML laws 23 million times, including a failure to report 262 customers linked to child exploitation.
Westpac has since made significant investments in bolstering its AML compliance by improving its digital systems and retraining staff. AUSTRAC's barrister Wendy Harris, QC, said Westpac had demonstrated it took AML compliance "very seriously" but only time would tell if this would be effective.
"Now of course the proof is always in the pudding," Ms Harris said. "You can have a system but there's also the implementation of the system, obviously we don't have a direct line of sight in that regard."
The Federal Court heard Westpac's failure jeopardised law enforcement's ability to fight crime.
"Westpac's failures resulted in significantly less transparency in the flow of funds in and out of Australia," Ms Harris said. "They compromised the ability of law enforcement agencies to deal with and prevent unlawful activity, and they undermined the taxation system by denying important information to the ATO [Australian Taxation Office]."
Ms Harris cleared the bank's board of any wrongdoing but said management oversight of AML compliance had been inadequate.
"There wasn't any deliberate intention to contravene the [anti-money laundering] Act. They did take steps to ensure Westpac complied," Ms Harris said. "But despite those steps, that oversight by [the] board and senior management was deficient in a number of respects."
Business Briefing
Start the day with major stories, exclusive coverage and expert opinion from our leading business journalists delivered to your inbox. Sign up for the Herald's here and The Age's here.
Source: Thanks smh.com