Market darling Temple & Webster's shares plummet despite sales boom
Online furniture and homewares retailer Temple & Webster has continued to benefit from a COVID-induced boom in internet shopping, reporting more profit for the first 16 weeks of the 2021 financial year than for the entire 2020 financial year. But investors fear a hangover after the boom, sending its shares diving.
At a trading update ahead of its annual general meeting on Wednesday, chief executive Mark Coulter said the retailer's earnings before interest, tax, depreciation and amortisation (EBITDA) since July 1 came in at $8.6 million – more than the $8.5 million in full-year EBITDA Temple & Webster reported last year, a jump the company attributed to a 138 per cent surge in sales for the period.
Despite its booming business, the company's shares plummeted when the market opened, plunging 16.2 per cent to $11.76 in early trading. Temple & Webster had become a market darling in recent months as it benefited from the pandemic, with its share price soaring over 430 per cent since the start of the year, in a similar trajectory with other online traders such as Kogan and Redbubble.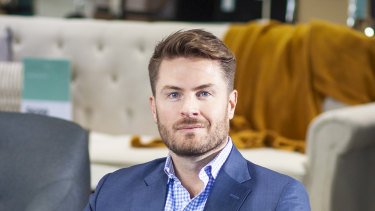 But market darlings are priced for perfection, with little appetite for slowdowns or hangovers. Tobias Yao, a fund manager at Temple & Webster shareholder Wilson Asset Management, said investors were most likely reacting to the slightly lower rate of growth in October flagged by the company in its update.
The retailer noted its October revenue growth was still in excess of 100 per cent, but far short of the 160 per cent growth rate it had flagged in July and August.
"Investors are worried about a potential 'pull-forward' of demand and what that means for growth rates going forward," Mr Yao said.
Mr Yao also said the extreme reaction to the trading update may be due to the popularity and success of the stock, with many investors potentially viewing it as a profit-taking opportunity.
In a speech posted to the market ahead of its AGM, chief executive Mark Coulter said there was still plenty of growth to come for the business and indicated the business would be looking to expand through acquisitions.
Earlier this year the business made a small investment into an offshore AI-based interior design business, and at its full-year results earlier this year hinted that more takeovers could be on the cards.
"We are also making larger investments in areas such as technology and data, brand awareness and our private label products; and we can produce more content by having more creative resources," Mr Coulter said on Wednesday.
"In effect, the bigger we get, the better and stronger our customer proposition becomes, which is a virtuous cycle."
While COVID-19 has provided a significant boost to online retailers across the board, Mr Yao said the real test for companies such as Temple & Webster would be in the second half of the financial year as they begin to compare their sales against the early COVID lockdown months when sales began to boom.
Source: Thanks smh.com