We're running scared – and that's a challenge for the economy
If 2020 has had one dominant emotion, that emotion is clearly fear. It was during the depths of the Great Depression that US president Franklin D. Roosevelt exhorted Americans to believe the popular adage of there being "nothing to fear except fear itself". If only it were that easy this time around.
In 2020, as we face the biggest economic crisis since those Depression days, our fear seems entirely more justified: a fear that either we – or someone we love – could contract and ultimately succumb to the coronavirus. Who among us has not battled that thought at least once this year?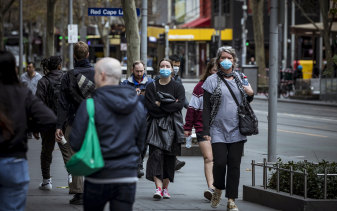 Thankfully, it is the job of economists to help us navigate our way towards optimal decision-making in the face of such pesky emotions. Armed with perfect information about all possible outcomes and a handy "cost-benefit analysis" tool, economists are supposed to strip decision-making of all emotion – be it fear or excessive generosity – and guide us towards optimal decisions about how to best maximise the welfare of society.
Sounds simple enough, right? Hardly. There has been intense debate among economists about the correct policy response to COVID-19, be it about border closures, lockdowns, or other restrictions. Most economists, it must be said, swing towards favouring lockdowns as the best way to control caseloads. But there is no shortage of dissenting voices pointing out the increasingly visible costs of such a strategy, be it rising joblessness or mental ill health.
One of the trickiest aspects of the economic debate is breaking down which costs arise as the direct result of government lockdowns and which would arise anyway from the simple "fear factor" of the existence of the virus itself.
Economist Jeff Borland from the University of Melbourne has been reviewing the growing literature in the United States which compares economic outcomes, like consumer spending or mobility indicators, across jurisdictions that have pursued varying degrees of lockdown.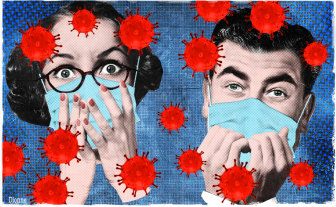 The main way COVID-19 affects economies is through reduced household spending, be it on flights, meals out or shopping in malls.
There are two potential mechanisms for this. First, and most directly, spending is crimped when governments impose laws strictly prohibiting economic activity – like, for example, leaving your house – in an attempt to curb the spread of the virus. But second, there are also the voluntary actions individuals take in their desire to avoid contracting the virus themselves, or spreading it to others. Indeed, countries like Sweden which have pursued a lighter touch approach to lockdowns have still suffered a significant reduction in their economic activity thanks to these precautionary actions.
In Australia, Borland says our lower economic output is attributable to both government policies and individual voluntary precautionary actions. His rough run of the numbers suggests the blame lies about "half and half" between the two. What does that mean?
Well, Daniel Andrews is not as omnipotent as some would make out. Amid recriminations, and severe frustration with lockdown rules, it's important to remember that even absent the harsh lockdown measures, Melburnians would likely have engaged in some degree of self-isolation in recent months amid rising COVID-19 cases, and that would have hurt the economy too.
Says Borland: "You can't blame the lockdown for all of the reduction in economic activity that has occurred. A lot of that would have occurred anyway."
And yet, lockdowns are clearly not blameless: "It's still the case that the restrictions have had some effect on reducing economic activity and then it's a matter of whether you think those short-term costs are worth it for the longer-term benefits."
The long-term benefits of lockdowns are that, if successful, they limit the spread of disease and give consumers greater confidence that they can go back to their economic activities sooner with less risk of contracting COVID-19.
According to Borland, to date it appears the benefits of lockdowns have exceeded the short-term pain: "I think that yes they definitely have, particularly when you look at what's happening in Europe at the moment and having to go into second lockdowns."
Studies in the US have shown that consumer spending is closely – and inversely – linked to COVID-19 case numbers and death rates. "The point is that everything comes back to the disease."
Which is one way to look at it and certainly for many people, fear of actually contracting coronavirus remains their driving concern. To what extent that is justified, given low mortality rates for healthy individuals, is another matter. But fear can become a hydra-headed thing during a pandemic. And fear kills economies.
As restrictions ease, there is a hanging dread that rising caseloads may provoke yet another harsh government lockdown that would be difficult, mentally, for many.
There is, of course, continued fear of losing your job, or having insufficient income to continue meeting household expenses. The point at which these other fears become more terrifying than fear of the actual disease itself is hard to judge. But these are no mere bogey men.
Unfortunately, there are plenty of things to fear during a pandemic, including fear itself. Helping Australians to manage these competing fears and maintain a good quality of life during this period of intense uncertainty is the defining political challenge of our time.
Source: Thanks smh.com