Coonan changes tune on Crown money laundering as investors revolt
Crown Resorts chairman Helen Coonan has defiantly told shareholders the company did not fail to prevent money laundering at its casinos, despite conceding under oath two days ago that it had both facilitated and "enabled" the criminal activity.
Ms Coonan made the statement during a bruising annual general meeting on Thursday in which investors delivered a "first strike" against the company and a significant protest vote that triggered the resignation of long-serving director John Horvath.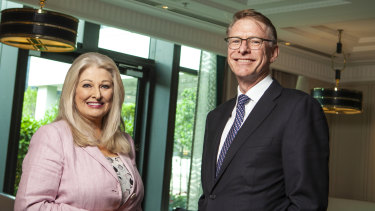 The shareholder revolt followed months of damaging evidence at the NSW Independent Liquor and Gaming Authority probity inquiry into Crown, which has detailed a string of serious governance and risk management failures and will consider whether Crown should keep its Sydney casino licence.
Professor Horvath, who was once Kerry Packer's personal physician, said he would resign from the board after 31 per cent of votes went against his re-election, meaning he only survived the meeting due to the support of James Packer, who owns 36 per cent of Crown.
Independent director Sarah Halton said she also considered resigning after being hit with a 25 per cent vote against her re-election, but "on balance" considered she had "sufficient support" to remain.
The biggest protest vote (41 per cent) went against Guy Jalland, a representative of Mr Packer who was involved in a sale of Crown shares to Melco Resorts last year that might have violated Crown's NSW casino licence.
Crown was hit with a "first strike" due to a 34 per cent protest vote against its executive remuneration package. Two consecutive strikes, or protest votes above 25 per cent, can trigger a full board spill.
Ms Coonan said shareholders sent a "clear and powerful message" that board renewal was required and that "changes will be made".
She apologised for the failures in governance and risk management revealed at the NSW probity inquiry and said her board would "take all the steps necessary to make sure we learn from these mistakes". That including implementing a stronger anti-money laundering regime and improving the company's culture.
However, Ms Coonan changed her tone significantly from evidence she gave to the ILGA inquiry just two days earlier when she conceded to Commissioner Patricia Bergin that Crown had facilitated and "enabled" money laundering at its Melbourne casino as a result of "ineptitude" and "lack of attention" by some employees.
On Thursday she said that she did not agree that "Crown has failed to protect against money laundering".
"What I said in response to the inquiry is that there may have been some suspicious matters at Crown – that doesn't prove that there's money laundering," Ms Coonan said.
"There was… possibly some ineptitude in management not noticing suspicious matters; that falls very far short of failing to protect Crown from money laundering."
The financial crimes watchdog AUSTRAC said on Monday it had launched an enforcement investigation into potential breaches of anti-money laundering laws at Crown.
The NSW inquiry was sparked by a series of reports by this masthead and 60 Minutes on how Crown facilitated money laundering at its Melbourne and Perth casinos, ignored evidence its "junket" high-roller tour partners were involved in organised crime, and failed to protect its employees in China from arrest despite clear warning signs they were at risk.
Crown chief executive Ken Barton apologised for giving a misleading answer at last year's AGM when an investor asked what information was being shared with major shareholder James Packer.
As the ILGA inquiry has examined in detail, Mr Barton told the meeting about a services agreement with Mr Packer's private company Consolidated Press Holdings but made no mention of a separate agreement under which he was sending Mr Packer financial updates almost every day.
"It was never my intention to mislead or provide a 'non-answer'," Mr Barton said.
"In hindsight, I recognise that my response was not a complete answer to that question and I could have chosen a clearer way to answer this question. I apologise for this."
Crown announced on Wednesday night it had terminated both agreements with Mr Packer and CPH.
Ms Coonan and Mr Barton took on their roles in January, replacing executive chairman John Alexander.
Michael Johnston, another of Mr Packer's representative on the board, defended his ongoing role after the NSW inquiry uncovered how he failed to act on warning signs before 19 Crown employees were arrested in China in 2016.
"I do think it is appropriate that I remain on the board," Mr Johnston said. "No doubt the inquiry will make relevant findings."
Ms Coonan backed Mr Johnston and Mr Jalland, saying they were "very experienced" and that the termination of information sharing agreements would deal with the "perceived issues".
"The CPH shareholder needs to be appropriate managed – I think we have taken some steps to ensure that," she said.
Crown's flagship Melbourne casino remains closed. However its Perth casino recorded a 16 per cent jump in gaming turnover between July 1 and October 18, Crown said on Thursday.
Market Recap
A concise wrap of the day on the markets, breaking business news and expert opinion delivered to your inbox each afternoon. Sign up for the Herald's here and The Age's here.
Source: Thanks smh.com