Crown hit with 'first strike' amid shareholder revolt over casino's crisis
Crown Resorts investors have delivered the crisis-stricken casino giant a "first strike" via a large protest vote at its annual general meeting, with two directors appearing to have kept their jobs only thanks to the support of major shareholder James Packer.
Based on proxy votes lodged before Thursday's meeting, there was a 34 per cent vote against Crown's remuneration report, above the 25 per cent needed for a "first strike".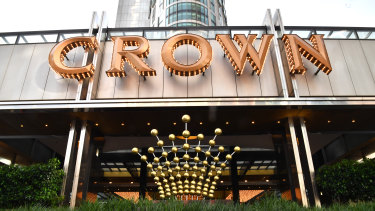 There was a 24 per cent vote against the re-election of director Jane Halton, a 41 per cent vote against director Guy Jalland, and 31 per cent against John Horvath. Directors need a 50 per cent vote in their favour to keep their seats.
Professor Horvath, who is a nominee director representing Mr Packer, said he would retire from the board if the final vote confirmed he was only saved only by Mr Packer's casting votes from his 36 per cent holding in his favour.
A second "strike" at next year's AGM could result in a company's entire board being split and forced to stand for re-election.
Crown Resorts chairman Helen Coonan acknowledged the "significant" protest vote.
"I understand the vote on these resolutions reflects dissatisfaction with the performance of the board and the company, particularly in the context of evidence coming out of the ILGA Inquiry," Ms Coonan said.
"Shareholders have given a clear and powerful message that board renewal is required, and the board accepts this feedback. Changes will be made."
Ms Coonan used her opening address at the meeting on Thursday to apologise for the failures in governance and risk management revealed at the NSW probity inquiry into the group that have thrown the casino group into crisis.
"The inquiry has heard evidence certain governance and risk management failings which do not reflect our values and expectations," Ms Coonan said.
"Let me say clearly that I unreservedly apologise for these failings," Ms Coonan said. "As a board we will take all the steps necessary to make sure we learn from these mistakes."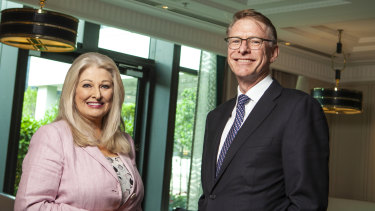 The inquiry, which was sparked by a series of reports by this masthead and 60 Minutes, has examined how Crown facilitated money laundering at its Melbourne and Perth casinos, ignored evidence its "junket" high-roller tour partners were involved in organised crime, and failed to protect its employees in China from arrest despite clear warning signs they were at risk.
The inquiry will consider whether Crown should keep the licence for its new casino in Sydney, which is set to open in December.
"We are committed to ensuring we have the highest standards of governance and an organisational culture that is exemplary," Ms Coonan said.
"We acknowledge we have more to do to meet this objective, and over the past year the board has actively pursued a range of improvements. Having a gaming licence is a privilege that we as an organisation do not take for granted."
Ms Coonan and chief executive Ken Barton took on their roles in January, replacing executive chairman John Alexander.
Prominent institutional shareholder Perpetual, which owns 9 per cent of Crown's shares will vote against the re-election of three directors up for re-election, while the Australian Council of Superannuation Investors encouraged its members, which own about 7 per cent of Crown's shares, to also vote against the directors' re-election.
Mr Barton has used his speech to apologise for giving a misleading answer at last year's AGM when an investor asked what information was being shared with major shareholder James Packer.
As the ILGA inquiry has examined in detail, Mr Barton told the meeting about a services agreement with Mr Packer's private company Consolidated Press Holdings but made no mention of a separate agreement under which he was sending Mr Packer financial updates almost every day.
"It was never my intention to mislead or provide a 'non-answer'," Mr Barton said.
"In hindsight, I recognise that my response was not a complete answer to that question and I could have chosen a clearer way to answer this question. I apologise for this."
Source: Thanks smh.com