Government not 'wasting a crisis' says Gonski
Retiring ANZ Group chairman David Gonski has refuted suggestions that the government is not doing enough to help Australia innovate its way out of the COVID crisis and said Australia needs to overcome its undue fear of failure to help promote innovation.
Speaking at an Australian Israeli Chamber of Commerce event on Wednesday, Mr Gonski praised measures the government has taken.
"I don't think we're wasting a crisis," he said with reference to the budget which backflipped on research and development incentives but did not make any significant changes to combat the recession.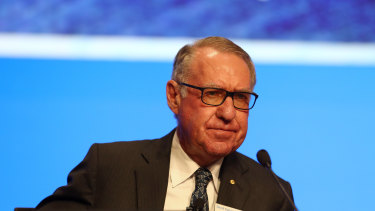 "I think it shows on the government's part an interest in research, which in my opinion, is vital," said Mr Gonski.
"I believe the budget has done the right thing to allow us to live through this crisis. But once we come out the other side, I think that the government should build on what they've started, build on the research money, and have a look at their translation of research into practical and wonderful things," he said.
He emphasised the need for universities and the CSIRO to work with industry to tangible products and services.
Mr Gonski is also chancellor of the University of NSW which has made painful cuts due to the COVID-19 impact on international student enrolments.
CSIRO chief executive Dr Larry Marshall mentioned the organisation's collaboration with Fortescue Metals Group to fund research for hydrogen energy as an example of this co-operation between institutions and industry.
"The government really paid attention because they saw that it really mattered to industry," he said.
"I'm amazed how quickly government will come into support for things that really matter for the country like exporting renewable energy, jobs and economic growth."
Mr Gonski told the panel that Australia does not just need to look at areas where it is deemed to have an advantage to build world class technology and businesses.
He cited Cochlear and Atlassian, the software group founded by Australian billionaires Mike Cannon-Brookes and Scott Farquhar, as examples where Australia has built global success stories that did not spring from Australia's traditional strengths in resources and agriculture.
But Mr Gonski said risk taking needed to be encouraged to aid this innovation and cited proposed changes to insolvency laws as an important step.
"I think it's a great credit to the government that they're prepared to look at it, and they need to look at it more, we need to praise people who honestly and diligently fail, because they haven't done anything wrong. And the failure may prove to others, that's not the route to go," he said.
Market Recap
A concise wrap of the day on the markets, breaking business news and expert opinion delivered to your inbox each afternoon. Sign up for the Herald's here and The Age's here.
Source: Thanks smh.com