Santos closes in on project to trap carbon dioxide underground
Energy giant Santos is confident it will be able to give the go-ahead for one of the world's cheapest carbon capture and storage projects in South Australia as the Morrison government indicates work is progressing to have the technology approved for federal carbon credits.
Santos last week completed the final field trial for the Moomba carbon capture and storage (CCS) project, injecting 100 tonnes of carbon dioxide into a depleted gas reservoir in the Cooper Basin, clearing the last significant hurdle from the company's end before signing off on an investment decision.
CCS technology – which traps carbon dioxide produced by heavy-emitting factories or fossil fuel-burning power stations before they are emitted into the atmosphere and buries them – has been a contentious area of climate policy, but is being targeted as a top priority for the federal government's emissions reduction roadmap.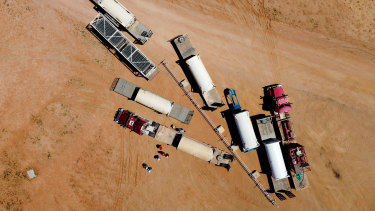 Santos managing director Kevin Gallagher said it was now waiting for the Clean Energy Regulator to finalise the methodology for CCS to qualify for federal carbon credits, which would be needed for the project to stack up economically.
"Our aim is to drive these costs lower with scale and experience, but the first step is to generate carbon credits to enable initial development," Mr Gallagher said.
Federal Energy and Emissions Reduction Minister Angus Taylor welcomed last week's milestone for Santos's Moomba project and said work on the CCS methodology was "progressing rapidly". Once earned, carbon credits can be sold to third parties that are seeking to offset their carbon emissions.
"Australia has a comparative advantage in CCS with a number of large geological storage basins," Mr Taylor said. "Successful trials like this are important to the development of CCS in Australia, which will create jobs and lower emissions."
Critics say CCS, a nascent technology, is economically unproven and is diverting taxpayer funds away from investments in renewable energy.
"Carbon capture and storage is unicorn technology that has already had millions of dollars of public money poured into it," Greens leader Adam Bandt said last month. The Greens also argued CCS was being embraced by big emitters as a distraction from stopping emissions in the first place.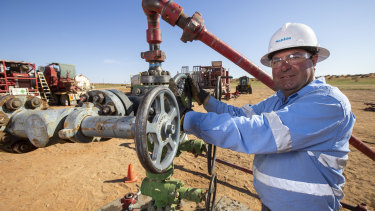 Supporters, including the Morrison government, say CCS is a necessary component of the world's decarbonisation goals in order to avoid the worst and most immediate impacts of global warming.
Last month the International Energy Agency warned that it would be "virtually impossible" for the world to achieve the Paris agreement's 2050 climate targets without capturing and storing emissions generated from factories, power generation, transport and other sources because the transition to renewable energy would not cut emissions in time.
Tom Allen, lead energy analyst with investment bank UBS, said Moomba was a key differentiator between Santos and rival oil and gas producers. He said UBS anticipated the federal government would be able to achieve bipartisan support for CCS to be eligible for Australian carbon credit units (ACCUs). This would offset more than 50 per cent of the project's life cycle cost of $27 a tonne of carbon dioxide equivalent, he said.
"Santos' final investment decision is subject to the government making changes to the Climate Solutions Fund so that CCS can qualify as an eligible technology," Mr Allen said. "I think they will wait until that change occurs or at least until receiving sufficient conformation from the government that it is coming."
The Moomba project, if it proceeds, would be the second biggest in the country after Chevron's Gorgon project in Western Australia. Moomba would initially have capacity to stash 1.7 million tonnes of carbon dioxide a year, and possibly as much as 20 million tonnes.
Carbon capture and storage is in its infancy, across the world and just 20 projects are in commercial use. However, the technology is being increasingly funded by governments and energy companies as part of their decarbonisation initiatives, alongside electrification plans.
Source: Thanks smh.com