Japan's net-zero goal a new threat to Australia's coal and gas exports
Australia's coal and natural gas producers are facing deeper uncertainty about long-term demand for their commodities after Japan pledged to achieve net-zero carbon emissions by 2050.
Japan's new target – unveiled this week by prime minister Yoshihide Suga – represents a looming challenge for Australia's federal budget, which relies heavily on coal and gas revenue as two of the nation's biggest exports. The Morrison government has also made a focus of helping the resources sector open up new developments across the country.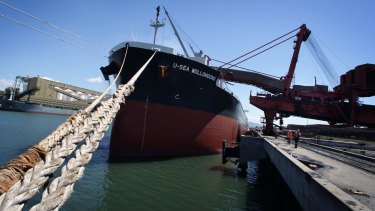 For Australia's multibillion-dollar coal and liquefied natural gas (LNG) industries, Japan's new goal raises the danger of diminishing demand in their most valuable market. In 2019 Japan bought $9.6 billion of Australia's energy coal exports and $21 billion of LNG cargoes.
Energy analysts on Tuesday described Japan's net-zero pledge as a "long-term" goal, but one that would have a meaningful impact on demand for Australian fossil fuel cargoes.
"Japan's demand for LNG and coal was already slowing considerably over the past couple of years," Prakash Sharma, Wood Mackenzie's head of markets and transitions for Asia Pacific, told The Age and The Sydney Morning Herald.
"With this net-zero goal, the decline will accelerate post 2030, because this is what net-zero is all about: moving away from fossil fuels, using more renewables, electricity, hydrogen."
Mr Sharma said fossil fuels' share of the Japanese energy mix would need to shrink from 90 per cent to 50 per cent under the net-zero goal, meaning utilities would likely blend gas and coal with new technologies such as hydrogen. Although Australian coal exporters will face demand destruction as a result, they may not be affected as severely as producers in other countries, he said, due to the competitive advantages of proximity to Japan and superior quality of coal.
"Australia's share will need to fall, but compared to other exporters, it could be like the last man standing," Mr Sharma said.
Kobad Bhavnagri, head of special projects at Bloomberg New Energy Finance, said on social media that Japan's announcement would send shockwaves across the coal export industry, particularly in Australia.
"Australian coal is quickly being left with nowhere to go," he said. "Japan is Australia's biggest trading partner in coal … they have just served us divorce papers."
Federal Resources Minister Keith Pitt said Australia's top-quality coal exports would remain highly sought after, "particularly from many of our trading partners in Asia who are adopting new technology like high-efficiency low-emissions (HELE) power stations and carbon capture storage (CCS)".
The long-term threat caused by the clean energy transition in export markets comes as coronavirus lockdowns depress energy use across the world and drive sharp downturns in coal and gas sales this year.
According to Australia's federal Industry Department, exports of thermal coal – the coal used in power generation – are set to fall 25 per cent from $20 billion to $15 billion.
After briefly overtaking Qatar to become the world's largest LNG supplier, Australia's booming $50 billion-a-year LNG export industry is forecast to decline to $31 billion.
However, analysts expect coal and LNG demand to begin recovering in the near term as the shock of the supply gluts ease and nations re-emerge from pandemic lockdowns with goals to stimulate their economies, requiring significant demand for fuel, power and steel.
The new emissions target for Japan, which ranks as the world's fifth-largest emitter, comes after top global emitter China announced a 2060 net-zero target. South Korea has also adopted a 2050 goal.
"With Japan's announcement, the three largest economies in East Asia now have explicit goals for net zero emissions at or near mid-century," said Erwin Jackson of the Investor Group on Climate Change, representing large investors holding more than $1 trillion of assets under management.
"This is a significant global market signal and will drive Asian companies and financial institutions to accelerate the transformation of their business plans towards net zero emissions."
Source: Thanks smh.com