Square Peg aims for the AI sweet spot with latest pick
Australian venture capital fund Square Peg has led a $US9.1 million ($12.7 million) funding round for Israeli artificial intelligence startup Deci, encouraged by the rapid uptake of AI technology by companies across its portfolio.
Deci's technology helps AI technology developers to make their models faster and more accurate. Company chief executive and co-founder Yonatan Geifman said the current method of developing AI was lengthy and relied on a lot of trial and error.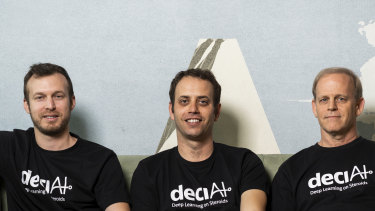 "What we were thinking about is basically harnessing AI to make this process automatic and more optimised," he said.
Square Peg partner Philippe Schwartz said Deci's technology was well placed to further streamline the development of AI technology.
"When we met with the [Deci] team we found they were able to help companies, especially at the junction between training the data on deployment and deploying the models into production, there's so much pain at that junction and this company really helps close that gap."
Square Peg has made several investments in the field like radiology AI startup Aidoc and has seen portfolio companies like weather forecasting startup ClimaCell increasingly use AI models.
"It's very much in our sweet spot," Mr Schwartz said. "We are pretty much focused on, Australia, New Zealand Israel and Southeast Asia, so it fits our geographic purpose, and the size of the company… it's at the early stage of its commercialisation, it's pre-revenue or early revenue and beginning (to get) commercial traction, so all that fits pretty well with us."
Mr Geifman said Deci was working to make AI more accessible for more companies.
"We are at the point where only the early adopters can really benefit from AI, and we see more and more users and companies trying to use AI for business purposes," he said.
Deci will use the funding from Square Peg and Israeli-based venture capital firm Emerge to expand its team, adding more engineers and sales personnel to target the US and Asian markets.
Source: Thanks smh.com