This year's other must-see election – Myer vs Solomon Lew
Forget Trump vs Biden, Thursday heralds this year's other must-see election – the one that decides who ends up controlling the ailing department store owner Myer.
It's shaping up to be a cliffhanger and make no mistake, depending on the outcome you can expect to see this election re-contested early next year via an extraordinary general meeting.
At stake is the future of the whole Myer board and the fate of the retailer's chief executive John King. The only director up for re-election at the annual general meeting is chairman Garry Hounsell but if he is felled the rest will ultimately fall like dominoes.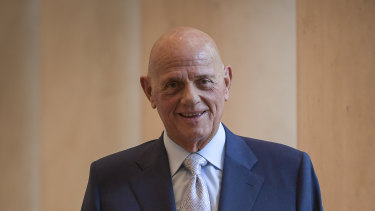 There are two central characters in this bout. The first is Solomon Lew – the largest shareholder with an 10.8 per cent stake. He is bitterly opposed to the re-election of Hounsell and has lobbied against him for years. More recently he has called on the whole board and King to resign.
The second player in this circus-like board election is Geoff Wilson, whose investment group has a 7.8 per cent stake in the department store group. Traditionally he has supported the Myer chairman but in recent months he successfully agitated for two Myer directors to agree to resign at the annual general meeting.
How the vote rolls will come down to Wilson. And if I was to read the tea leaves it looks like Wilson is having a bet each way. Here's why.
Lew has been a ferocious critic of Wilson. As recently as early September Lew hit out at Wilson's arrogance in backing Hounsell in the face of yet another set of poor full year results from Myer.
Weeks later Lew upped his campaign against Hounsell by applying for access to Myer's share register – in what looked like a move by Lew to lobby small shareholders.
He has done this before and at the time received a strong groundswell of support among retail investors.
But this time Lew hasn't followed through. The small shareholders have not been contacted and his public criticism of Wilson has also ceased.
Both actions suggest Wilson has told Lew that he will have his support and on this basis the ousting of Hounsell should be a slam dunk.
But hold on. If the Myer board thinks it doesn't have support from Wilson it would have pulled the resolution to re-elect Hounsell and he would have resigned before the meeting. The fact that the Hounsell candidacy has remained suggests Myer believes it has Wilson's support.
If Wilson is speaking out of both sides of his mouth, the outcome will not be known until the proxies are announced on Thursday.
Wilson is an investment manager with a flare for marketing via involving himself in controversial companies or shareholder issues.
He was the front man in the campaign to save franking credits during the last Federal election, he became an activist shareholder in Virgin Australia and more recently he has become the corporate face of a push against the government's proposal to enshrine virtual shareholder meetings post-COVID.
It could just be that the most controversial position for Wilson to take is to abstain from voting on Hounsell's election at Thursday's meeting. And one can't rule that out.
This would open up a whole new can of worms and make the final outcome very difficult to call. On balance Hounsell would probably have the numbers. But it would be a pyrrhic victory.
Lew will lie in wait until after Christmas and on the expectation that Myer's performance over that vital trading period will fall short, the billionaire rag trader would likely requisition an extraordinary general meeting.
At this point he would be looking to replace Myer's entire board and King – the fellow brought in from the UK a few years back to reverse Myer's fortunes.
In the meantime, Lew would need to gather a group of probably six directors to sit on the board – of which probably two would be his official nominees.
With a replacement board at the ready it is more likely that Lew would win the support of the small number of institutional investors on the register.
In theory Lew taking defacto control of Myer with an 10.8 per cent stake would be a governance anathema. But the financial and share price performance of Myer over the past decade is even worse for investors than any governance shortcomings.
Business Briefing
Start the day with major stories, exclusive coverage and expert opinion from our leading business journalists delivered to your inbox. Sign up for the Herald's here and The Age's here.
Source: Thanks smh.com