ANZ chief says 'real pain' to come mid-2021, exits coal
ANZ chief executive Shayne Elliott has predicted the real economic pain from the coronavirus pandemic will be felt by customers towards the middle of next year, as the lender put aside an additional $1.1 billion for bad loans.
The big four bank reported a 42 per cent fall in cash profit caused by credit losses and loan impairments at its full-year results on Thursday. It committed to paying shareholders a final dividend of 35 cents per share, down from 80 cents last year.
Mr Elliott said ANZ was "building its war chest" by expanding the loan impairment provision to protect the bank from small businesses and individuals that could go bust once government support packages that are "buying time" are cut off.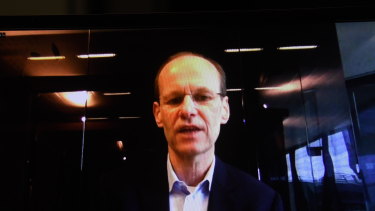 "We would expect the real pain, the real losses are more likely to come in the middle of next year. Why? Because there's always a lag," Mr Elliott said. "The difficulty will be in what happens when some of those support packages get removed. Inevitably they will."
Velocity Trade senior banking analyst Brett Le Mesurier said the $1.1 billion provision for bad loans was smaller than predicted. "I hope they're right, I'd like to think they're right," he said. "But it's less than I had expected."
ANZ said 42 per cent of its 95,000 home loan deferrals were still being deferred. Of the 55,000 borrowers whose initial deferral periods had expired, 20 per cent had requested a further deferral (half from Victoria), 79 per cent had returned to full payments and 1 per cent had restructured or transferred to hardship payments.
The hospitality and retail industries continued to be the most affected business sectors, making up a combined 41 per cent of business loan deferrals, the bank said.
The bank's internal data revealed about 10 per cent of borrowers with deferred home loans were receiving JobKeeper or JobSeeker payments and 80 per cent now had stable or improved incomes.
Mr Elliott said ANZ had developed its own form of contact tracing used "micro-level, real time data" to approach customers facing the most difficulty. "Rather than impose lockdowns on huge parts of our [loan] book, we're able to track hotspots in our portfolio and manage them while allowing the rest of our business to operate," he said.
In line with industry trends, customer deposits climbed to $329 billion compared with $295 billion in the same month last year, as people spent less money due to lock-don restrictions and the poor economic outlook.
'The difficulty will be in what happens when some of those support packages get removed. Inevitably they will.'

ANZ CEO Shayne Elliott
Mr Elliott said many of the bank's customers were behaving "like CFOs" by hoarding cash, bolstering rainy day funds and paying off the most expensive debt, with credit card lending down 18 per cent.
"To me, this says a lot about the rational and realistic approach customers are taking," Mr Elliott said.
ANZ exits coal
ANZ used its results announcement to release a new climate policy, vowing to exit thermal coal by 2030 and stop funding new coal mines and power stations immediately.
The policy caused a backlash from the Federal Resources Minister Keith Pitt who described ANZ as an "eco-warrior". "At a time when the rest of Australia is focused on economic recovery and getting back to work, it is extraordinary that ANZ's priority is to play environmental activist," Mr Pitt said.
Mr Elliott said the bank's decision was not caused by pressure from activists rather an economic calculation of risk.
"We've … had a very rational discussion and analysis about risk and looking at the economy," he said. "And basically we see there is a transition happening globally and in Australia towards a more renewable, sustainable energy future."
Australia's largest trading partners – China, Japan, Britain and South Korea – have committed to net-zero targets within the next few decades, undermining the future viability of Australia's fossil fuel industry.
"We've seen announcements from some of our biggest coal markets, for example, Japan," Mr Elliott said. "We can't just sit and ignore that … We need to position our business for the future."
Activist group Market Forces said ANZ's new policy meant that now no major Australian bank or insurer was "willing to back thermal coal beyond 2020, except for NAB" and called for exclusions to other fossil fuels.
Campaigner Jack Bertolus said ANZ ranked behind other big four banks in its commitments to oil and gas, with the Commonwealth Bank of Australia last year pledging to only provide finance to new oil, gas or metallurgical coal projects that were supported by environmental assessments and aligned with the goals of the Paris climate agreement.
"There is no room for expansion of the fossil fuel industry in a Paris-aligned decarbonisation pathway," Mr Bertolus said.
However, Mr Elliott said the bank did not have ambitions to grow its "small exposure" to oil but that ANZ supported gas as a transition fuel. "We're not walking away from gas."
ANZ's share price fell over the course of the day by 3 per cent.
Source: Thanks smh.com