Lew tells Myer board to resign or face dismissal after chairman's shock departure
Billionaire retailer Solomon Lew has told the directors of department store Myer to step down or face dismissal following the resignation of chairman Garry Hounsell just hours before the company's annual general meeting on Thursday.
Mr Lew said Mr Hounsell's departure was the "green shoot" Myer shareholders had been waiting for and should signal to the company's remaining four board members that their "time is up".
"In the interests of all shareholders, we expect the remaining Myer directors will now indicate their intention to step aside in an orderly manner or face an extraordinary general meeting at which they will be certainly dismissed," he said.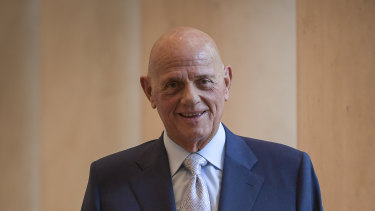 The Premier Investments chairman's comments followed the shock departure of Mr Hounsell on Thursday morning after it became evident Mr Lew and fund manager Geoff Wilson would not be voting for his re-election.
The move was a significant victory for Mr Lew, who has been campaigning against Mr Hounsell since his appointment in 2017. Mr Lew owns 11 per cent of Myer and has regularly blamed the chairman for the company's underperformance.
Director JoAnne Stephenson has been named acting chairman and the company said it would undertake a global search for a new chair. However, Mr Lew deemed this a "waste of time and money".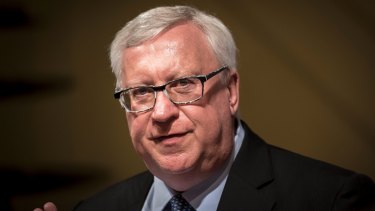 "Myer is an Australian icon and it requires a board with proven Australian retail credentials and commercial experience, including key skills in property, information technology, e-commerce and logistics," he said.
Mr Lew said he would look to install a new independent board at the retailer for the sake of Myer's customers, suppliers and its "long-suffering shareholders".
"Premier intends to continue to consult with other major shareholders and together we will reconstitute the Myer board with a majority of independent directors led by an independent chairperson," he said.
Premier will look to have representation on any new board in line with its shareholding.
This suggests Mr Lew may have garnered the support of Myer's other major shareholders, including Mr Wilson from Wilson Asset Management, to mandate change at the company.
Mr Lew had indicated in recent weeks he would be voting against Mr Hounsell at the annual general meeting, where he was up for re-election. Mr Wilson, whose firm owns 7 per cent of Myer, had kept his cards close to his chest, but eventually said he believed the company would benefit from some "clear air".
"We believe Myer will benefit from clear air following a challenging period for the company," he told The Age and The Sydney Morning Herald on Thursday morning.
"We expect that management can now stay focused and work towards delivering for shareholders during the Christmas season," he added.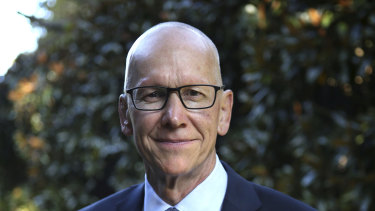 Mr Wilson did not respond to questions on if he would support Mr Lew at a future extraordinary general meeting, saying he was "supportive of Myer management" and was focused on the company performing through Christmas.
At the company's annual general meeting, chief executive John King and Ms Stephenson fielded a barrage of questions from disgruntled shareholders, with one saying they considered their investment a "total loss" and believed the company would collapse.
The two directors, who at times sounded notably frustrated, apologised for Myer's ongoing poor performance and did not comment specifically on the comments made earlier by Mr Lew. However, Ms Stephenson reinforced that the current board was the right team and called for ongoing stability at the retailer.
"A war of words in the media is damaging for customers, damaging for the Myer brand, and therefore damaging for you our shareholders," she said. "What Myer needs now, more than ever, is stability."
She also noted that Mr Lew had, "until recently", had productive meetings with Mr King and Mr Hounsell, and that Myer was prepared to work with its largest shareholders where there is "positive intent".
However, the call for support did not prevent Myer from receiving a first strike against its remuneration report, its second in three years, with 33.3 per cent of shareholders opposing the resolution.
Investors also protested against the awarding of $840,000 in performance rights to Mr King, which 32.6 per cent voted against. Shares fell 2 per cent at 24 cents on Thursday.
Source: Thanks smh.com